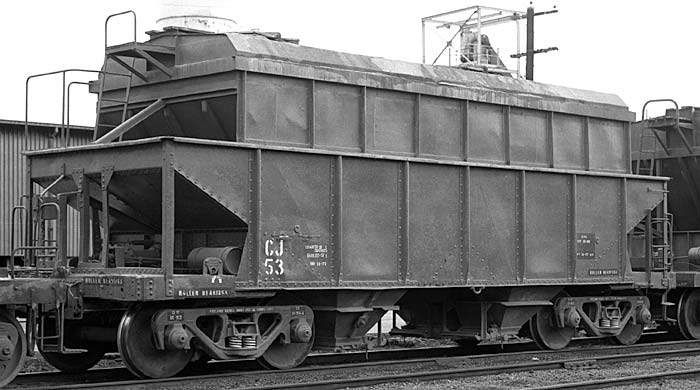 12 CJ's (51 - 54 and 80 - 87) were converted from J open hoppers (nos 1 - 12) assembled at Newport from parts by the American Car and Foundry Export Co. in 1925. For cement service the sides were extended, a roof with inlet hatches and modified gravity discharge doors were added

CJ 80 at Fyansford. June 27 1978
Photo courtesy Geoff Winkler
---
CJ 6 and 14 had a different roof to the rest of the class

CJ 6 at Nth Geelong yard. June 27 1978
Photo courtesy Geoff Winkler
---

CJ 18 at Nth Geelong yard. Feb 7 1978
Photo courtesy Geoff Winkler
---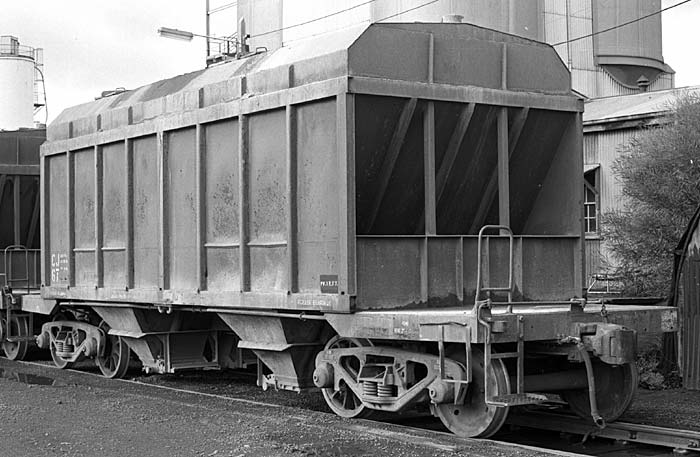 ---
---
Closeup of CJ 9's 7" stencil showing the old 5" CJF stencil underneath.
---
At least one CJ made it into the V/Line freight scheme, VHCA 55 @ Tottenham yard, Nov. 2004
---
VHLA spent much of its life as CJ 83. It was built as J 1 by the American Car & Foundry company Nov 1925, converted to CJ 83 Nov. 1968. In 1981 it had its top cut off and effectively recongfigured back to its original form for limestone traffic. It was scrapped May 1983. Photo date Aug. 1982 at Nth Melb workshops.
Photo courtesy Peter J. Vincent
---
The article below is from the Jan. 1950 VR Newsletter