GH grain hoppers

GH 545 at Arden Street, Jan. 19 1981
| | |
| --- | --- |
| Number in Class | 810 |
| Number group | 1 - 810 |
| Construction period | 1979 - 1982 |
| In service | 1979 - mid 80's |
| Where built | Newport, others? |
| Diagram | |
| Modeling | VR products |

The GH's were converted from GY's. It was a major undertaking and you have to wonder how many new bogie hoppers could have been built with the money used to convert GY's into GH's. By the late 70's VR was so seriously short of grain wagons that drastic measures like this had to be undertaken.

The original design had 4 discharge doors but this arrangement discharged wheat too fast for the unloading equipment to handle so the change was made to two discharge doors, this also solved the problem of access to the brake equipment.

After problems accessing the brake equipment it was proposed to move the brake equipment to a cutaway section as shown on GH 243 (below) but the expense of carrying out this conversion and the change to 2 discharge doors saw it not carried out and so the cutout sections remained devoid of brake equipment. The early GH's had two discharge doors and two roof hatches, the vast majority had one discharge door and one long roof hatch. It is not known if any 2 door GH's were converted to a single door.

Trains of GH's were notoriously deficient in braking power. This was because GH's had their tare weight increased by the conversion and could be and were loaded with more wheat than a GY, however the braking system was not improved to compensate. Many drivers blood pressure was seriously raised bringing solid blocks of GH's down long steep grades such as those found on the Bendigo line and from Warrenheip to Geelong.
Above, GH 1 shortly after being re-coded from GY 2207
Below GH 2 and GH 1 (the prototypes) at Newport, notice the two different styles of walkway supports, also note that the internal lashing ring
"bubbles" have been removed, later conversions did not bother with this cosmetic enhancement.
both photos March 1979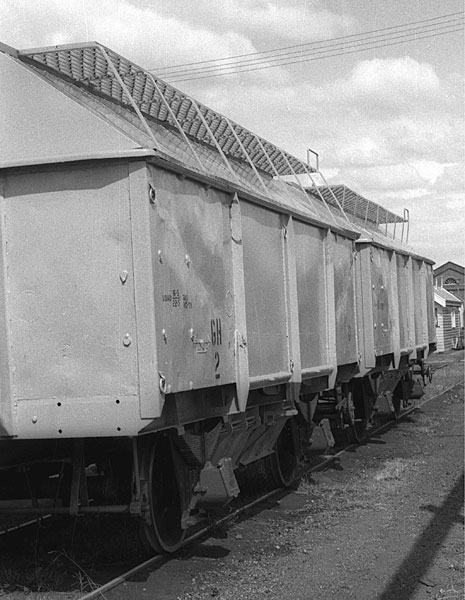 ---
The two photos above and below, show end vies of two unknown GH's The GH above has rather crude grabirons compared
to the stronger looking grabirons on the GH below. This type grabiron neccesitated the removal of the left hand
internal lashing ring "bubble"
Photo above courtesy Dave Crowhurst
---
Because GH's 1 & 2 were the prototypes they have a few differences, note the roof walk supports on GY 2207
prior to re-coding to GH 1, also note the abscence of end grabirons/steps to access the roof.

GH 28 at Echuca, April 13 1980
Photo courtesy Peter J. Vincent.
The original 4 discharge door design inhibited access to the brake equipment so some GH's had their ends cut out as shown
the plan was to mount the brake equipment in the cutout but the change to 2 discharge doors eliminated the need for this.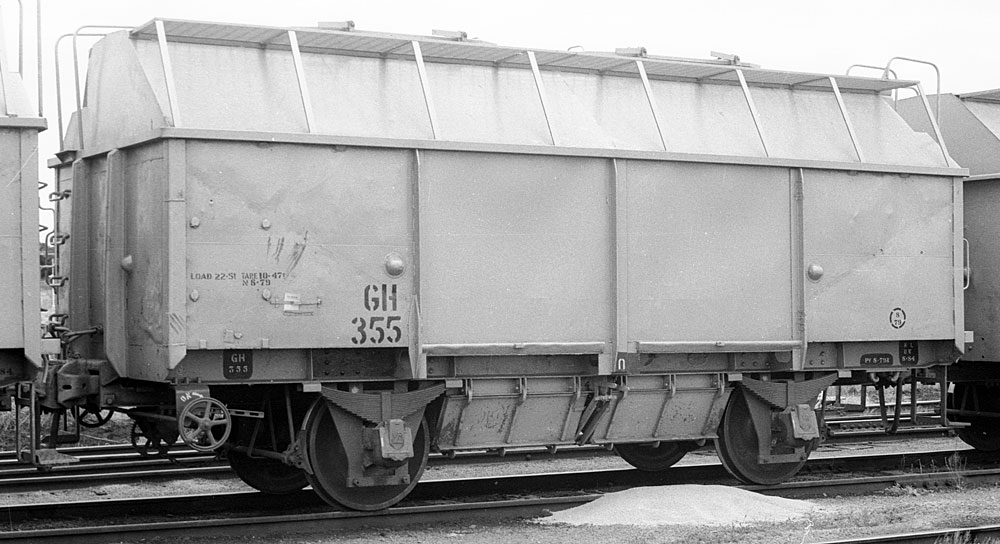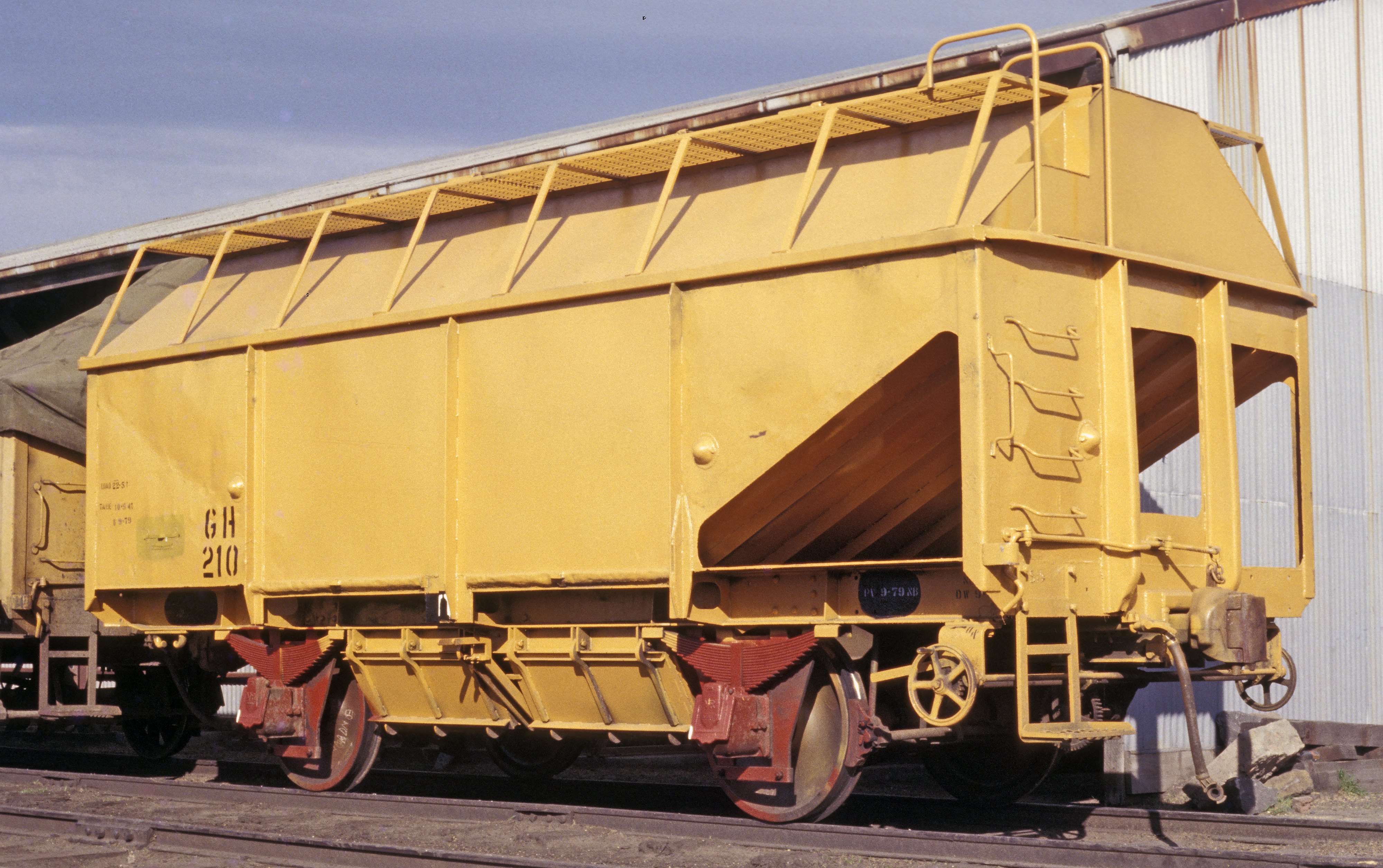 ---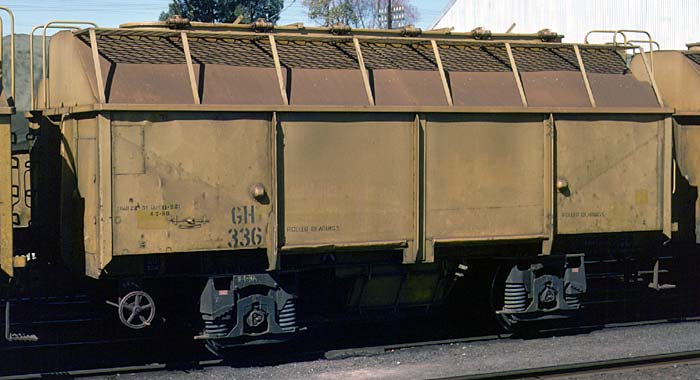 As a test GH's 155 and 336 were fitted with European style axleboxes in 1980 and tested at high speed.
---
Towards the end of the GY to GH conversion program GH 800 was fitted with this fibreglass top, presumeably to reduce tare weight. It is not known if any other GH's were thus fitted. Photographed at Bendigo workshops, Nov. 1982 (above) and at Sunshine Jan 1983 (below)
Both photos courtesy Rob O'Regan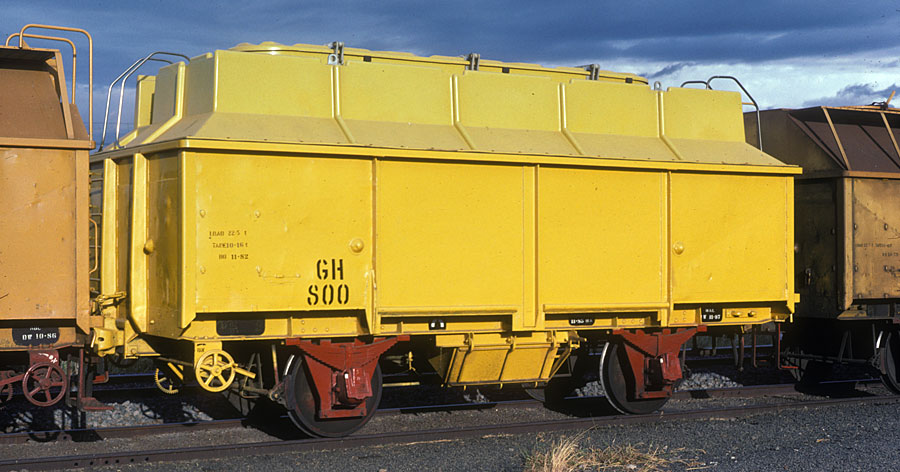 ---
GH 497 (above and below) at Tottenham, March 1983
Photos courtesy Rob O'Regan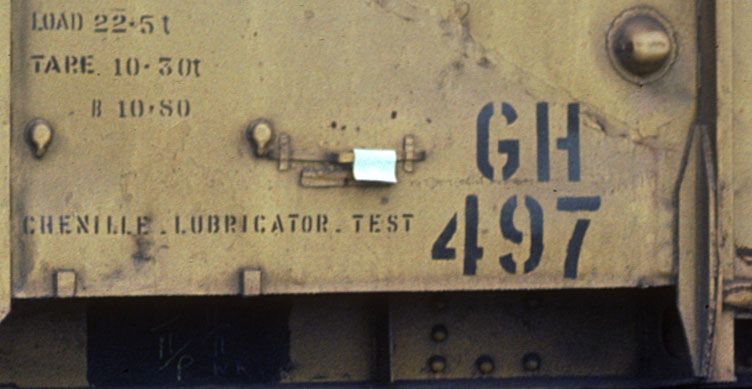 ---
GH 612 at Tottenham, March 1983
Photo courtesy Rob O'Regan
---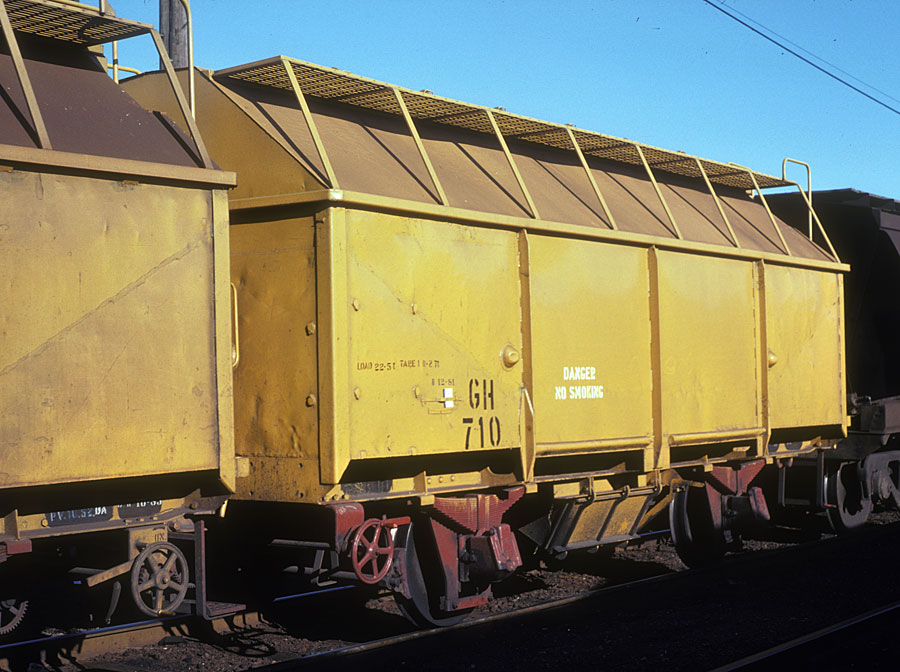 GH 710 at Tottenham, June 1982
Photo courtesy Rob O'Regan
---

GH 806 at Bendigo North, Nov. 1982
Photo courtesy Rob O'Regan
---
Close up of discharge doors on GH 243.
---
GY 893 during conversion to a GH, the doors have been removed and a hole has been cut in the floor for the discharge chutes. 1978

Photo courtesy Peter J Vincent
---

ABOVE & BELOW: GH's 18 and 9 prior to being released into traffic, 1978
Photos courtesy Peter J Vincent
---
Soon after being built the GH's started to suffer serious frame cracking. The cover allowed much more wheat to be loaded into them than a GY with a tarpaulin.
Below: Auscision HO scale model of a GH.
Page last updated Tue, Sep 4, 2012