VR Open Wagon History 1875 - 1980
1875 - 1903 Wooden bodies
In Oct. 2007 I gave a presentation on the evolution of VR's 4 wheel open wagons at a modelers convention organised by the Victorian Model Railway Society. These notes were written and photos collected for that presentation.
By 1875 VR had somewhat standardised on their design for an open wagon. From 1875 to 1887 approx 2,780 (8 & 10 ton capacity) I wagons of wooden body and underframe were built. In 1888 wagons of a similar design with wooden bodies but with steel underframes appeared, almost 3000 wagons of this design were built until 1903.
It is often very hard to give accurate number groups for VR wagons built prior to ???? . This is because new groups of wagons first filled up any spare numbers. For example, if VR built 100 wagons and numbered them 1 -100. Over the next few years numbers 5, 29 and 67 were scrapped due to derailments. When the next 100 were built they would NOT be numbered from 101 onwards, the first 3 would be numbered 5, 29 and 67. The fourth wagon to be built would be numbered 101. In this way they could always tell how many wagons they had in any particular class by simply knowing the highest numbered vehicle in that class.



ABOVE: This marvelous old photo shows a builders photo of a wooden frame, wooden bodied I wagon before it was lettered. It has no air brake, the handbrake applies the rather primitive looking wooden brake blocks. Close examination of the builders plate suggests the word "Ballarat" in which case it may have been one of the batch that Walker Hickman Company built between 1877 and 1879. Its number was possibly somewhere in the group 842 - 939 (
Photo from the Phil Dunn collection

)
BELOW: A 1900 view of a wooden underframe I 1382, built 1882 by Kennedy & Sons, Melbourne. Note the difference in door design to the I wagon above. The white square under the door indicates that the wagon is fitted with a through air pipe but that the vehicle does not have an operating air brake. I 1382 was recoded to IB 1382 circa 1932 and was scrapped around 1940. (Photo from the Chris Elliot collection)

---

ABOVE: I 1703 was built by Kennedy & Sons, Melbourne in 1883, recoded to IB 1703 circa 1929 it lasted in terminal traffic until being scrapped Aug. 1948. It is appears that this photo was taken in the early 1920's. Note that the carrying capacity has been increased to 11 tons and that the wagon class and number now appear on the wagon body.
---

ABOVE: I 2056 was built June 1886 by Williamstown workshops, recoded to IB 2056 circa 1931 and scrapped 3/8/1936. The white cross under the door indicated that the wagon has an operating air brake.
Photo at Koroit 19??
---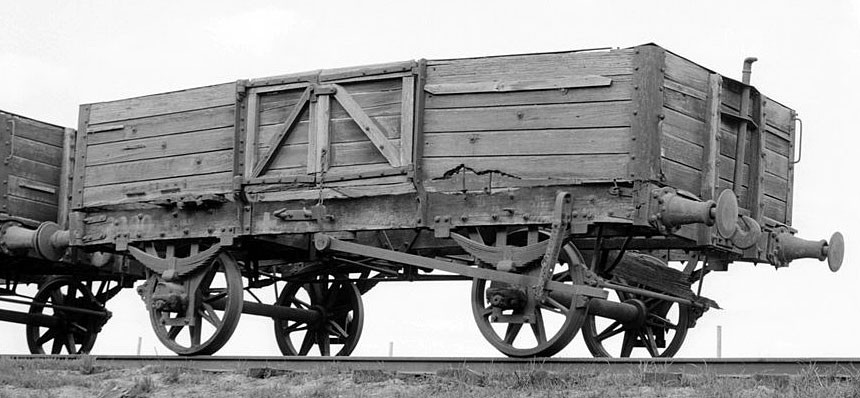 In Nov. 1928 I 2390 (above) and I 2710 (below) were sold to the "Bridgewater & Kerang United Roller Mills" for
£40 each.
They never left the property and so became frozen in time, these photos were taken in 1978 by Peter J. Vincent. The pair are now in the custody of the Castlemaine & Maldon railway where they will hopefully be preserved. They are the only known surviving examples of wooden underframe I wagons. (Photos courtesy Peter J. Vincent)
I 2390 was built May 1886 by Pickles & Company, Sandhurst
I 2710 was built May 1887 by Williams, Melbourne.
---
---
STEEL UNDERFRAME

According the the 1904 diagram book I 3678 would have been built with a wooden underframe in Dec. 1887 by HUD, at some stage it recieved a steel underframe. It was recoded to IB 3678 circa 1929 and lasted until Nov. 1953 when it was scrapped
---

ABOVE: I 3957 was built Dec. 1889 by Wright & Edwards. It was scrapped Dec. 1923.
Photo at Timboon circa 19??