| | |
| --- | --- |
| Jan. 19 1887 | North Creswick to Rocky Lead opened. 12.65 miles of single track railway costing £161,966. (£ 6,892 per mile) |
| June 1 1887 | Rocky Lead to Daylesford opened. 10.46 miles of single track railway. |
| July 28 1953 | Daylesford to Newlyn closed. |
| Dec. 1 1976 | Allendale to Newlyn closed |
| Dec. 8 1986 | North Creswick to Allendale closed |
| | |
| --- | --- |
| Daylesford | Year ending 1889 |
| Pass inwards | 60,799 |
| Pass outwards | 35,914 |
| Goods inwards | 4,619 tons |
| Goods outwards | 5,939 tons |
| | |
| Woodburn siding | |
| goods inwards | 5c |
| goods outwards | 2,019 tons |
| | |
| Grave's siding | |
| Goods inwards | nil |
| Goods outwards | 1,902 tons |
| | |
| Ballan Road | |
| Pass inwards | 1,936 |
| Pass outwards | 6,173 |
| Goods inwards | 30 tons |
| Goods outwards | 15,939 tons |
| | |
| Leonard's Hill | |
| Pass inwards | 4,704 |
| Pass outwards | 12,171 |
| Goods inwards | 452 tons |
| Goods outwards | 23,560 tons |
| | |
| Wombat siding | |
| Pass inwards | 1,246 |
| Pass outwards | 2,162 |
| Goods inwards | 81 tons |
| Goods outwards | 18,111 tons |
| | |
| Rocky Lead | |
| Pass inwards | 4,517 |
| Pass outwards | 7,523 |
| Goods inwards | 351 tons |
| Goods outwards | 2,115 tons |
| | |
| Newlyn | |
| Pass inwards | 5,204 |
| Pass outwards | 8,384 |
| Goods inwards | 772 tons |
| Goods outwards | 9,492 tons |
| | |
| Kingston | |
| Pass inwards | 6,996 |
| Pass outwards | 10,373 |
| Goods inwards | 10,454 tons |
| Goods outwards | 2,631 tons |
| Allendale | |
| Pass inwards | 20,575 |
| Pass outwards | 42,916 |
| Goods inwards | 32,159 tons |
| Goods outwards | 1,338 tons |
| | |
| Broomfield | (not open whole year) |
| Pass inwards | 4,187 |
| Pass outwards | 12,536 |
| Goods inwards | 528 tons |
| Goods outwards | 5 tons |
---
Daylesford, the line to Carlshrue is curving away to the left, the formation of the line to Nth Creswick and Ballarat curves away to the right.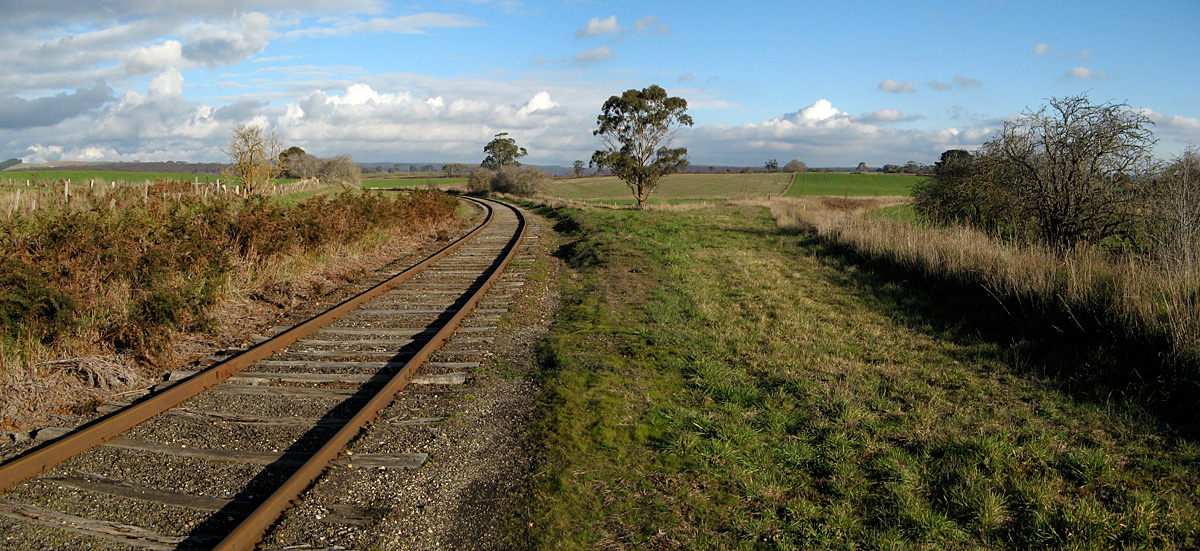 There are some very substantial earthworks on this line. A very deep cutting at approx milepost 107 looking towards Sailors Falls
---

ABOVE: A rather large culvert at approx milepost 107 1/2, capped in bluestone, the mortar work in the brickwork is exquisite!
BELOW: Another large culvert close to the one above, this one is big enough to walk through standing upright.
---

I am standing on the formation at approx MP 105 1/2 looking east at where a very substantial wooden bridge took the line over the road below,
the remains of the bridge can be seen before the embankment continues.
---

A long section of straight embankment at photographed from the level crossing at MP 100 28c 50l looking west
---

Wombat station area looking east, the mound next to the track is the remains of the platform.
BELOW: "The Argus" April 2 1888