N class diesel electric locomotives
MODEL: JT22HC-2
In the early 1980's it was decided to rebuild all 26 B class into A class. This program was stopped after 11 B's had been rebuilt but the parts for all the B to A conversions had been ordered. Initially 10 N class were ordered but the order was extended to 25, the 15 additional N's were equipped with the parts that were to go into the A's.
The N's feature dual cabs and a head end power diesel generator and have been used in passenger service since their delivery. Mechanically the N's and the A's are pretty much identical, the only difference being that N's have a head end power generator, A's do not.
All of the N's were built at Clyde's Somerton, Victoria plant
Until 1995 all of the N's wore the V/Line orange/grey scheme, after this time the N's were painted in V/Line pass. crimson paint scheme.
Click on the color schemes for a photo.
1st Order (12/645E3C engine)
| | | | | | |
| --- | --- | --- | --- | --- | --- |
| Road # | Serial # | In service | Disposition | Color schemes | Name |
| N 451 | 85-1219 | Sep. 1985 | to V/Line pass. | vlo - vlc | City Of Portland |
| N 452 | 85-1220 | Oct. 1985 | to V/Line pass. | vlo - vlc | Rural City Of Wodonga |
| N 453 | 85-1221 | Nov. 1985 | to V/Line pass. | vlo - vlc | City Of Albury |
| N 454 | 85-1222 | Nov. 1985 | to V/Line pass. | vlo - vlc | City Of Horsham |
| N 455 | 85-1223 | Dec. 1985 | to V/Line pass. | vlo - vlc | City Of Swan Hill |
| N 456 | 85-1224 | Jan. 1986 | to V/Line pass. | vlo - vlc | City Of Colac |
| N 457 | 85-1225 | Feb. 1986 | to V/Line pass. | vlo - vlc | City Of Mildura |
| N 458 | 85-1226 | Mar.1986 | to V/Line pass. | vlo - vlc | City Of Maryborough |
| N 459 | 85-1227 | Apr. 1986 | to V/Line pass. | vlo - vlc | City Of Echuca |
| N 460 | 85-1258 | May. 1986 | to V/Line pass. | vlo - vlc | City Of Castlemaine |
---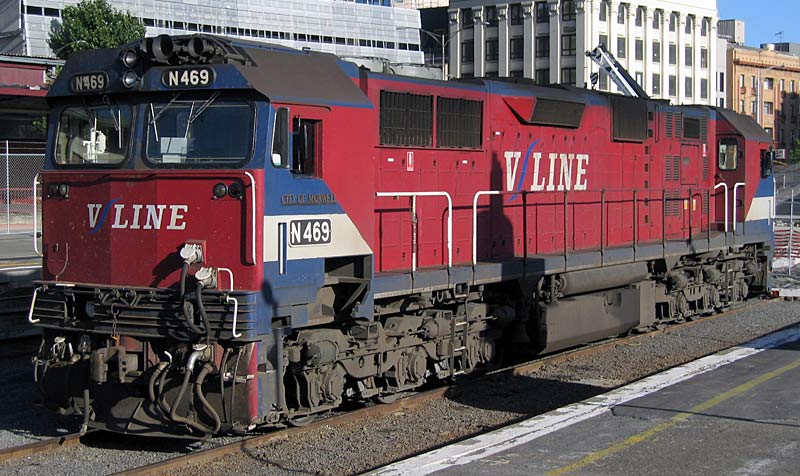 N 469 shows the V/Line pass. colour scheme at Spencer Street station, Jan 2004
2nd Order (12/645E3B engine)
| | | | | | |
| --- | --- | --- | --- | --- | --- |
| Road # | Serial # | In service | Disposition | Color schemes | Name |
| N 461 | 86-1190 | Jul. 1986 | to V/Line pass. | vlo - vlc | City Of Ararat |
| N 462 | 86-1191 | Aug. 1986 | to V/Line pass. | vlo - vlc | City Of Shepparton |
| N 463 | 86-1192 | Sep. 1986 | to V/Line pass. | vlo - vlc | City Of Bendigo |
| N 464 | 86-1193 | Sep. 1986 | to V/Line pass. | vlo - vlc | City Of Geelong |
| N 465 | 86-1194 | Oct. 1986 | to V/Line pass. | vlo - vlc | City Of Ballaarat |
| N 466 | 86-1195 | Oct. 1986 | to V/Line pass. | vlo - vlc | City Of Warrnambool |
| N 467 | 86-1196 | Nov. 1986 | to V/Line pass. | vlo - vlc | City Of Stawell |
| N 468 | 86-1197 | Dec. 1986 | to V/Line pass. | vlo - vlc | City Of Bairnsdale |
| N 469 | 86-1198 | Jan. 1987 | to V/Line pass. | vlo - vlc | City Of Morwell |
| N 470 | 87-1199 | Feb. 1987 | to V/Line pass. | vlo - vlc | City Of Wangaratta |
| N 471 | 87-1200 | Feb. 1987 | to V/Line pass. | vlo - vlc | City Of Benalla |
| N 472 | 87-1201 | Mar. 1987 | to V/Line pass. | vlo - vlc | City Of Sale |
| N 473 | 87-1202 | Apr. 1987 | to V/Line pass. | vlo - vlc | City Of Warragul |
| N 474 | 87-1203 | May 1987 | to V/Line pass. | vlo - vlc | City Of Traralgon |
| N 475 | 87-1204 | Jul. 1987 | to V/Line pass. | vlo - vlc | City Of Moe |
Above, N 475 at Sth Dynon, Feb. 13 1988 and below at Newport, Sep 29 2007

---
Roof view of N 461 at Spencer Street, Nov. 2003
---
The latest paint scheme for the N class is this one,which to my eye, looks like a clownface.
Spencer Street, Nov. 16 2008

Photo courtesy
Valerian Patykowski
---
Control stand of N class as delivered. 1988
please email me with any corrections,comments or questions
page last modified11/20/08