AVOCA dining car
Photo date circa 1936 just after the car was airconditioned.
| | |
| --- | --- |
| Number in Class | 1 |
| Number group | Avoca |
| Construction period | 1927 |
| In service | 1927 |
| Where built | Newport |
| Diagram | |

Avoca and Hopkins were the first all steel passenger carriages on the VR. It appears that both "Avoca" and "Hopkins" were built to provide a dining car service on the Overland and a photo exists (see below) of Avoca or Hopkins being attached to the Overland at Ararat. Apart from the Pullman built cars they were the heaviest passenger cars to ever run on the VR, weighing 76 tonnes. The only bogie capable of carrying its great weight was a suburban motor car bogie shown above, it got roller bearing bogies mid 1950's. Avoca was Airconditioned in 1936. It is preserved in the Historical vehicles fleet.
Hopkins was sold to Commonwealth Railways Feb 1 1950 and was "written off" March 29 1968. Scrapped by Jan 1969

Both cars used on Sydney Limited from 1927 to Nov 1937. When SOP starts running in Nov 1937 both dining cars transferred to the Overland. Avoca was airconditioned Feb 1936. It is probable that Avoca got painted dulux "larch green" circa Nov 1937 when it commenced running on the Overland.

Avoca at Geelong. July 28 1978
Photo courtesy Geoff Winkler
Avoca photographed in 2005, as preserved.
---
Ararat, 1936? Dde 254 waits to attach diner to Overland.
---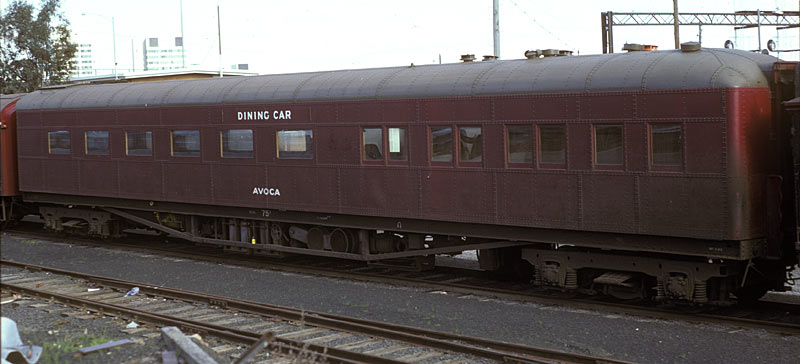 Avoca at Spencer St. July 1986
page last updated
9/14/11