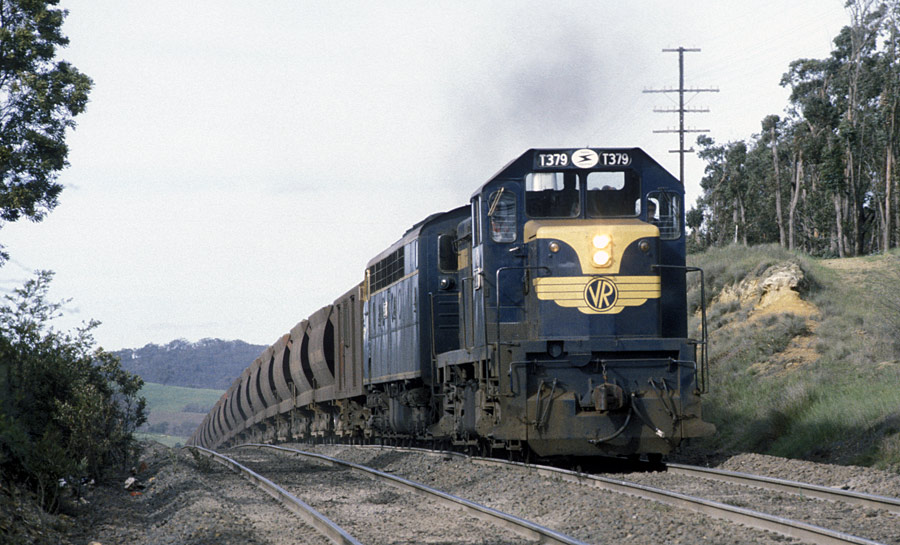 T 379 - S 308 pull the empty Apex quarry train over the crest at Heathcote Junction. Normal practice was for the non dynamic braked loco to lead on the empties so that the dynamic equipped loco would lead on on the loads. July 25 1983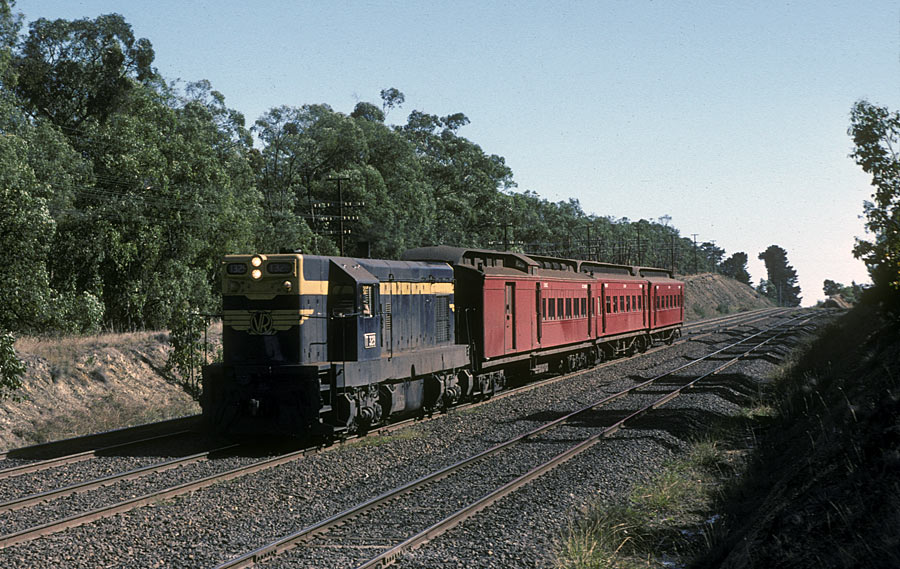 T 325 leads an all wooden consist on a Seymour to Melbourne passenger service at Heathcote Junction.
April 1982

S 315 and an unknown T class haul a loaded Apex quarry train through Heathcote Junction. circa 1980

B 65 and B 76 haul the down combined Albury/Cobram train towards the summit of the Great Dividing Range at Heathcote Junction.
Photos courtesy Trevor Penn

B 66 and an S class on the down combined Albury/Cobram pass. at one of Victoria's best known photo locations, Heathcote Junction. .
Jan. 4 1976
Photo courtesy Peter J. Vincent

For most of the 1970's and 1980's VR hired Commonwealth Railways GM class locos for use on the Melbourne to Albury standard gauge line.
GM's 31, 32 and 34 for much of the 1970's and in the 1980's at least 30, 31, 32 33 and 35 were hired. Here we see the Sydney bound
"Spirit Of Progress" roaring up the 1 in 50 toward Heathcote Junction. At Albury the GM's will be detached and NSWGR locos will haul
the train on to Sydney. Dec. 28 1981.
The Spirit of Progress was mainly a sitting car train but in standard gauge days always had one or two sleepers from the Southern Aurora cars.

X 34 on a rake of L sheep wagons at the foot of the final grade up to Heathcote Junction. 1938

The hard slog is over as X 31 crests the grade at Heathcote Junction on a down goods, 1938. The short uphill track was a runaway track
from the Heathcote line which was used at least a few times!
feel free to email me with any corrections or comments
page created
Sat, 21 Jul 2012