ABOVE: Murtoa, looking towards Melbourne. circa 1910. The signalbox shown was replaced by a much larger one in 1913.
BELOW: A similar view taken in Oct. 1981, just before the Ararat to Wolseley CTC project went through.
Photo courtesy Keith Lambert.
---

A view of Murtoa taken from the Adelaide end looking East (towards Melbourne), 1981
---
Y 157 attends to its yard pilot duties at Murtoa. The massive grain storage facilities of Marmalake can be seen in the distance.
March 30 1970

Photo courtesy Tony Smith

ABOVE: S 304 pauses in the back platform at Murtoa while running the morning down Dimboola pass.
The tracks on the right were the "loco sidings" interestingly the turntable could only be accessed from this via a mainline track.
BELOW: The same train departing Murtoa photographed from the coal bins that can be seen on the right in the above photo,
the C van was a regular on the Hopetoun DERM when vangoods exceeded the capacity of the DERM.
March 30 1970.
Photos courtesy Tony Smith

56 RM arrives Murtoa after its run from Hopetoun, this service connected with both the down and up Dimboola passenger trains
March 30 1970.
Photo courtesy Tony Smith
---

2 B's arrive Murtoa on an up goods. It was January 1979 and a freind and I were just commencing our
annual 2 weeks "All Lines Ticket" sojourn around Victoria.

A badly scratched neg of X 35 running the down Horsham pass in the back platform, 1979
---

C 505 and an X class on a down goods cross B 61 on an up wheat train, as was common,
B 61 has been backed out on the Warracknabeal branch for the cross..
Jan. 31 1979.
Photo courtesy Peter J. Vincent
---

T 356 stands in the back platform track at Murtoa while running 9151 down goods to Dimboola, Sept 22 1983.
Photo courtesy Chris Wurr
---
Technically not my greatest photo but included as a good view of the down end of Murtoa as seen from the cab of X 42 while running
the down Horsham pass. Our train was sitting in the long gone, down platform. The track to the left was to the loco sidings.
A signal diagram of the layout at this time is here.
June 13 1981.
---

A pair of X class await departure from Murtoa at 0200 with a loaded wheat train, 1987.
---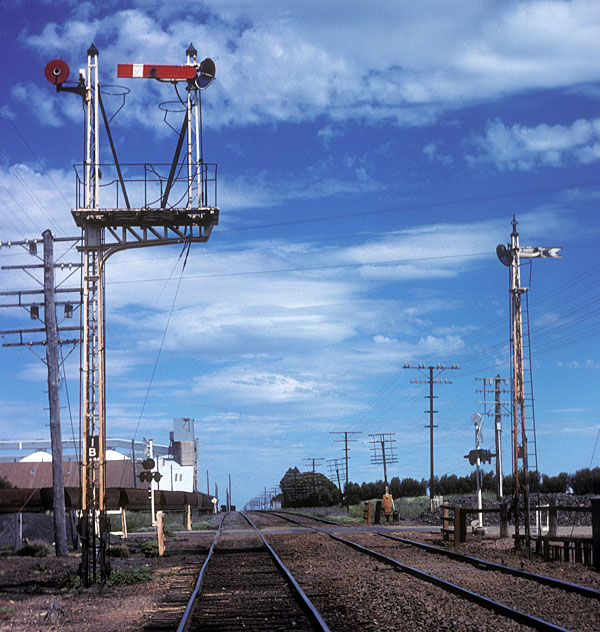 Melbourne end of the yard looking east toward Marmalake and Melbourne.
This disc applied along the Marmalake siding (track on the left) The home applied to the mainline (right hand track).
Murtoa 1982. CLICK HERE for Murtoa's signal diagram

Post 13, disc out of the sidings.

Post 14, up home and discs

Post 15, up home and discs from the Serviceton line
feel free to email me with any corrections or comments
page created
Thu, 9 Feb 2012