KR rail carrying wagons
Number in Class
147, 2 axle. 20 bogie
(1976 total)
Number group
124 - 189, 191 - 318
Construction period
1955 - 1970
In service
1955 -
Diagram
Modeling

KR's were used to transport rail, at Spotswood short rail lengths from the foundry were flash butt welded into much longer lengths of continuous rail, loaded onto rakes of KR's and dispatched to the relaying project.
Most KR's were 2 axle wagons built from recycled I/IA underframes, KR's 191- 210 were bogie wagons converted from steam loco tender underframes from 1960 - 1965

Each rake had a bulkhead equipped KR at each end, in between these two wagons were a number of non bulkhead KR's, (these intermediate KR's usually did not have coupler lift pins). On some rakes intermediate KR's in the rake had a crane to lift the rail up and out from the wagon and drop it onto he ground. Rakes not equipped with cranes required workmen to manually lever the rail off the wagon after the side stakes were removed.
KR 159 at Nth Melbourne workshops showing the early style of bulkhead, Sept 1978
---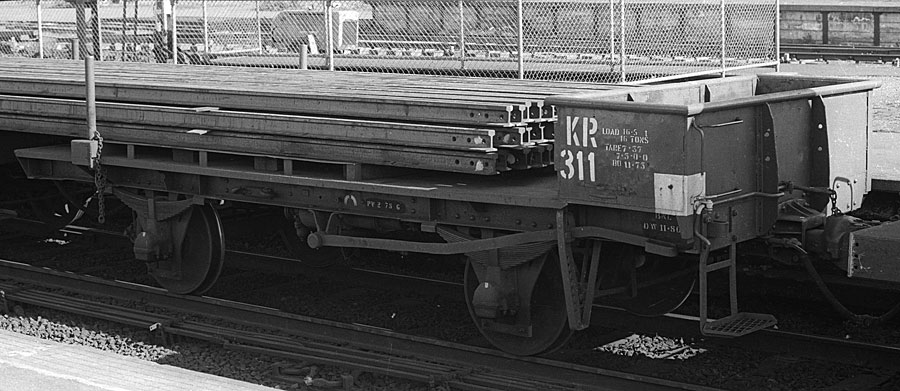 KR 311 at Sunshine showing the later style of bulkhead, Sept 1978.
---
KR 191 & 192 of the small group that was converted from steam loco tender underframes, Geelong, March 1978.
Note the safety chain in addition to the drawbar on KR 192
above, stencil on KR 192
Showing the bulkhead of a bogie KR and below the stencil on KR 210, this rake comprised 4 bogie KR's
---
KR's 140 & 141 showing a slightly different superstructure style to other 2 axle KR's above, Dandenong April 1978

Stencil on KR 140
---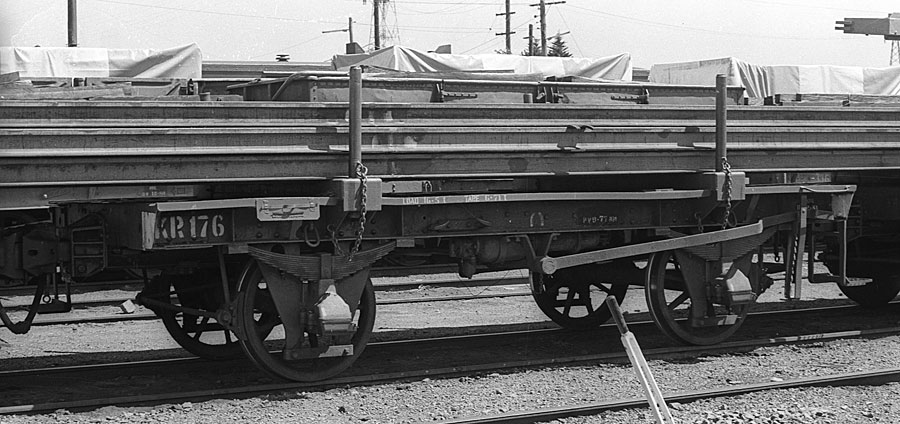 KR 176 at Nth Melbourne workshops, Feb. 1978
---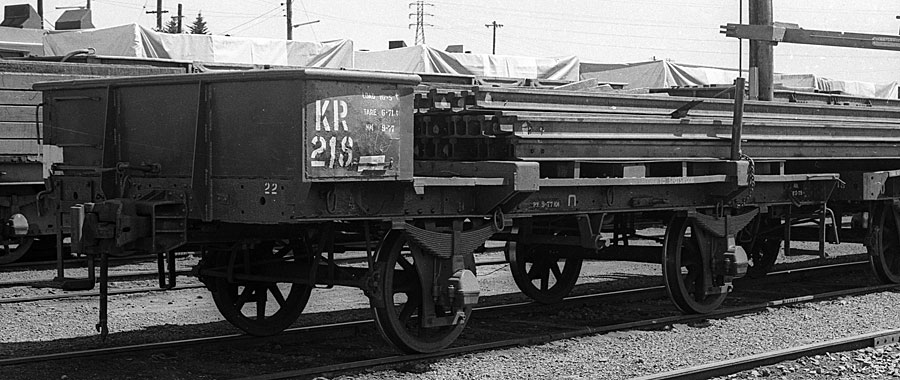 KR 218 at Nth Melbourne workshops, Feb. 1978
---
KR 300 showing the cranes used to lift the rail out of the wagon, Nth Melbourne workshops, Feb. 1978
page last updated Thu, 8 Feb 2007