E open wagons
Number in Class
202
Number group
1 - 202
Construction period
1925 - 1928
In service
1925 - end
1979 recode
VOAA
Where built
U.S.A. Newport
Diagram
Modelling
SEM makes a kit that requires some kitbashing of the GY model.

Veteran Models make a etched brass and whitemetal O scale kit of the later version

LETTERING DIAGRAM
Courtesy Phil Dunn

In 1925 the VR purchased two open wagons in kit form from the American Car & Foundry company and assembled them at Newport into E 1 and E 2. Newport then built 200 more nearly identical copies.

Over the years a lot happened to this class. During World War II 99 E's had their bodies removed and were used as flat wagons (classed S) After the war, 1947 - 1949, 72 had new sides and ends fitted of the HY design E 123 and E 89. 100 E's were converted to S flat wagons in 1941 for wartime traffic, Some E's were converted for pole traffic in later years as shown in the photo of E 170, yet other E's donated their underframes to become tank wagons. At the end of their lives a few made it into departmental traffic as HR's.

E 40 (condemned) at Bendigo, Oct. 1985. HY type end, original pressed sides.
Photo courtesy Rob O'Regan
A later all welded body, note the overhanging lip on the end and the vertical stiffener in between the V and R
Built new May 1928 NP, body rebuilt Jan 1969, recoded to VOAA June 1979
---
BELOW: E 64 at Traralgon, 1978.
E 64 at Jolimont 1978
E 64 built new August 1927 NP. conv to S 64 by removing sides and ends, Sept 1941. converted back to E 64 c irca 1948.
HY style body fitted, as shown above, Dec. 1958. Doors removed and into Harris bogie transport circa 1980
both photos of E 64 courtesy Rob O'Regan
E 64 at Jolimont 1980
---

An early all welded body conversion
Built new Sept 1927, NP. altered to pole traffic Dec. 1957, rebuilt to "standard" E April 1969 with body shown here.
scrapped March 1979
---

E 146 at Nth Geelong yard. Dec. 7 1978
Photo courtesy Geoff Winkler
---

E 193 at Ballarat. Aug. 9 1978
Photo courtesy Geoff Winkler

Original sides (with doors removed) and welded (HY type)ends.
Built new June 1928 NP, altered for pole traffic Dec. 1957, recoded to VOAA Feb 1981
---
E 57 at Korumburra, Jan 1977, showing one of the very last E's to run in original condition.
Photo courtesy Rob O'Regan
---

E 116 circa 1930 in original condition.
Official VR photo, State Library of Victoria collection
E 127 was built May 1928, this photo shows the wagon in "as built" condition. Nov 1942 conv to OT182
---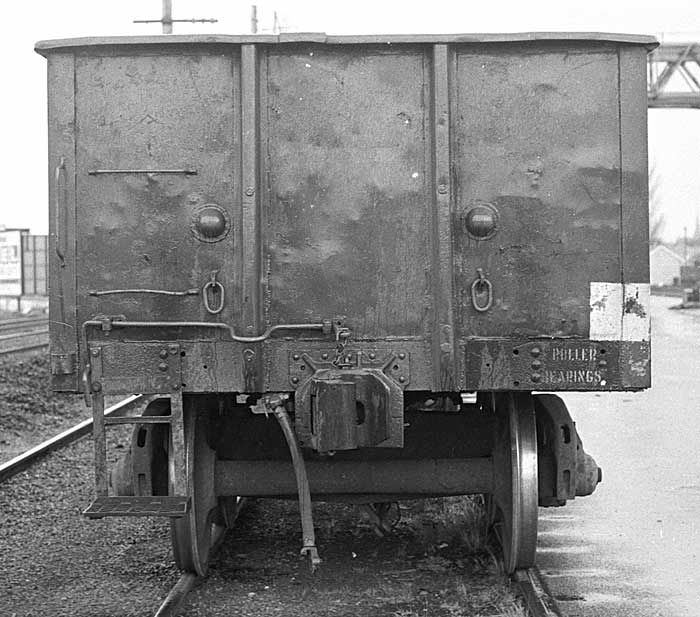 End view of E 147 showing the HY type ends.
---

E 100, new sides, ends. Arden street 1978
---
E 18 at Port Melbourne, 1979. Note the different style of centre stiffener.
Page last updated Sat, Mar 10, 2012