GY's 911 - 1160 (except 1080) were converted from IZ class wagons, their outside sill made them the only major variation within the GY class. All GY's in this number group had wheel handbrakes
.
BELOW: circa 1978 courtesy Peter J Vincent
BELOW: GY 911 photographed in 1978

GY 1000 at Dandenong. Aug. 5 1978.
---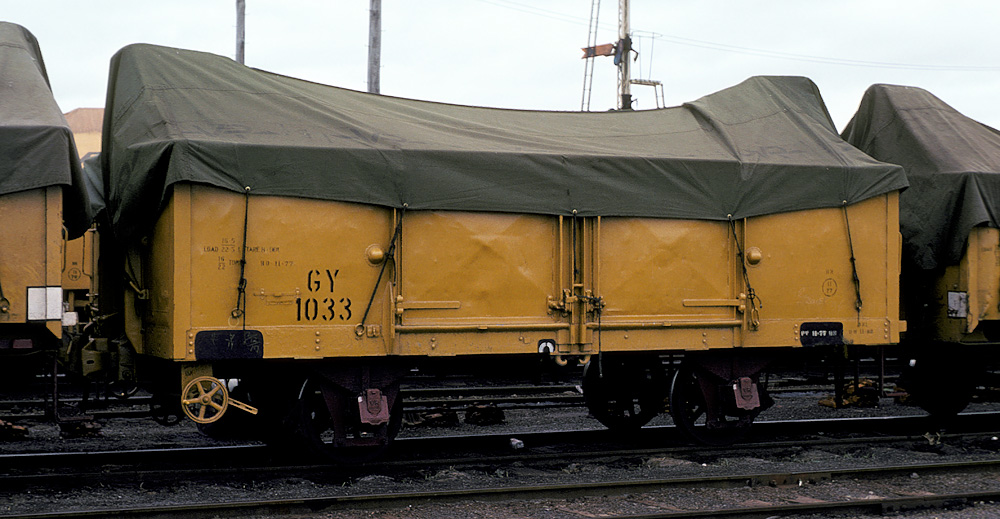 GY 1033 at Nth Geelong, Feb 7 1978
BELOW: GY 1152 at Nth Geelong Sept. 2 1978
Both photos courtesy Geoff Winkler
---
Converted from a GZ, GY 1080 was the only inside sill GY to have a wheel handbrake
Photo courtesy Peter J. Vincent
---

ABOVE: GY 79 photographed in 1979.
BELOW: 3586 stencilled for timber traffic, photo, 1979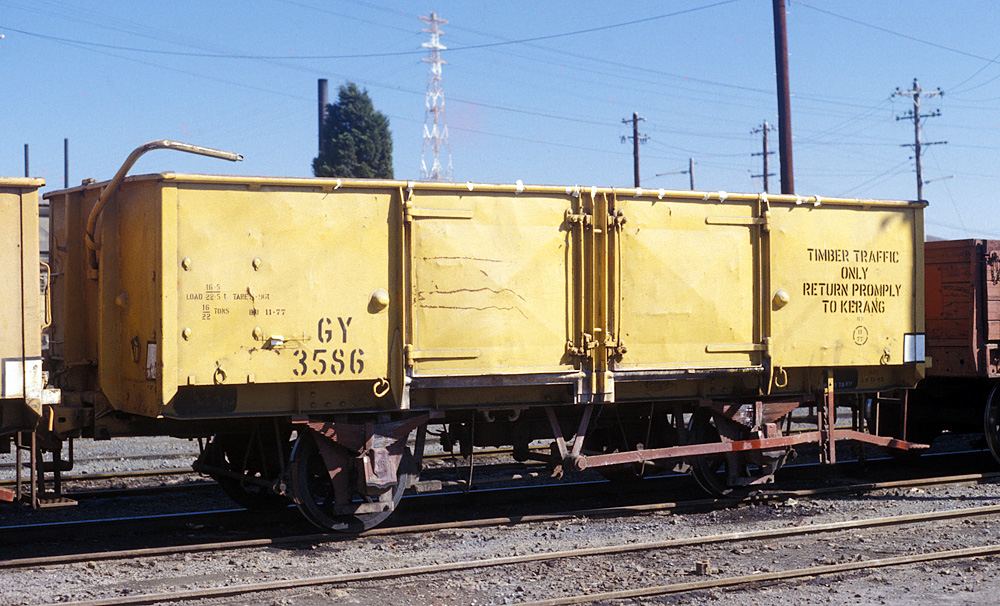 ---

ABOVE: GY 4868 at Nth Geelong, Dec. 22 1978
BELOW: GY 2168 at Geelong loco, July 20 1978
Both photos courtesy Geoff Winkler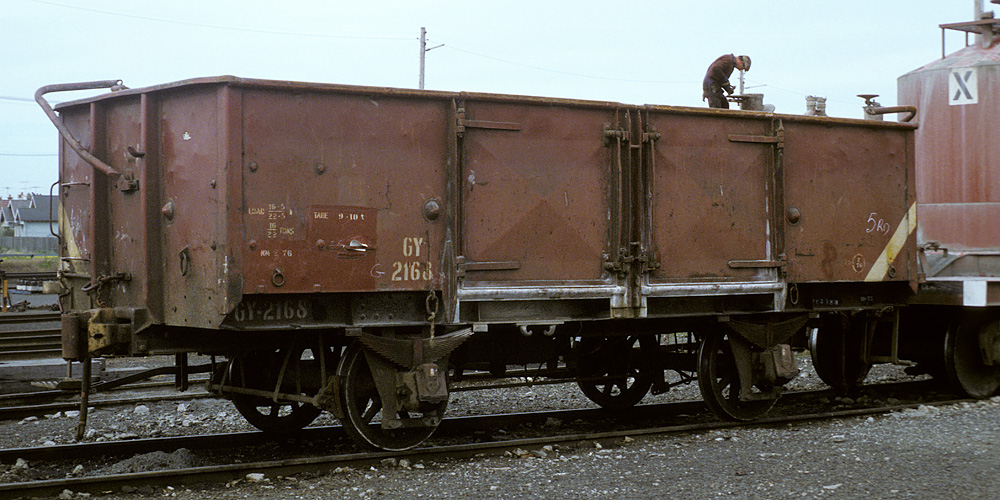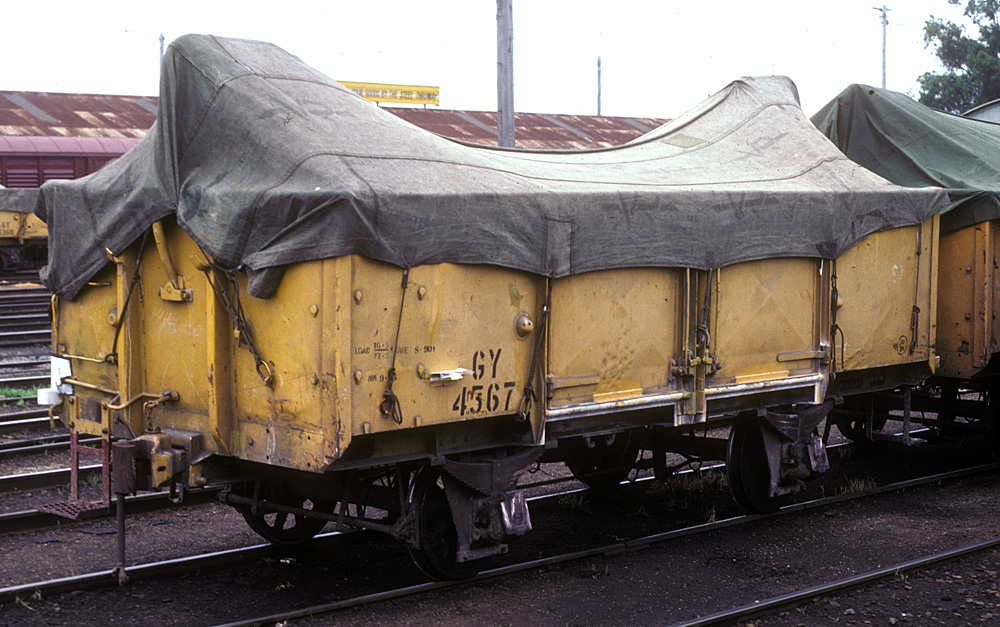 GY 4567 at Ararat, Dec. 1979.
---
The underside of a GY after a derailment at Armstrong 1981
---
Very rare shot of an APM "GY". In 1956 VR purchased APM's 1 to 20 and renumbered them GY 6130 to 6149. It is believed that the APM's were built in the early 1950's
The article below is from the Jan. 1954 VR newsletter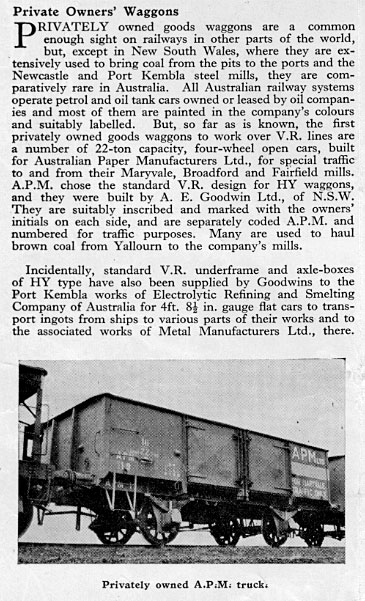 ---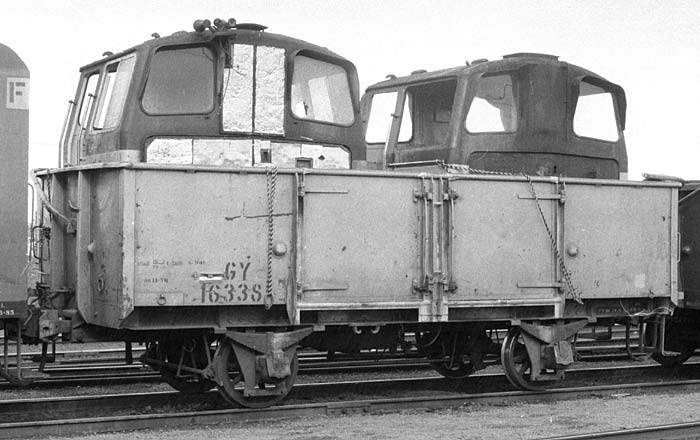 Although GY's were mainly a wheat carrying wagon, in the off season they were often loaded with all sorts of things. GY 16338 loaded with 2 cabs from scrapped W class locos, Tottenham yard 1980
---
GY 3570 loaded with oil drums, 1978.

Photo courtesy Peter J Vincent
---
GY 16204 (ex HY 16204) at Bendigo, 1978. Still in red, 10 years after the program to paint GY's yellow began.
---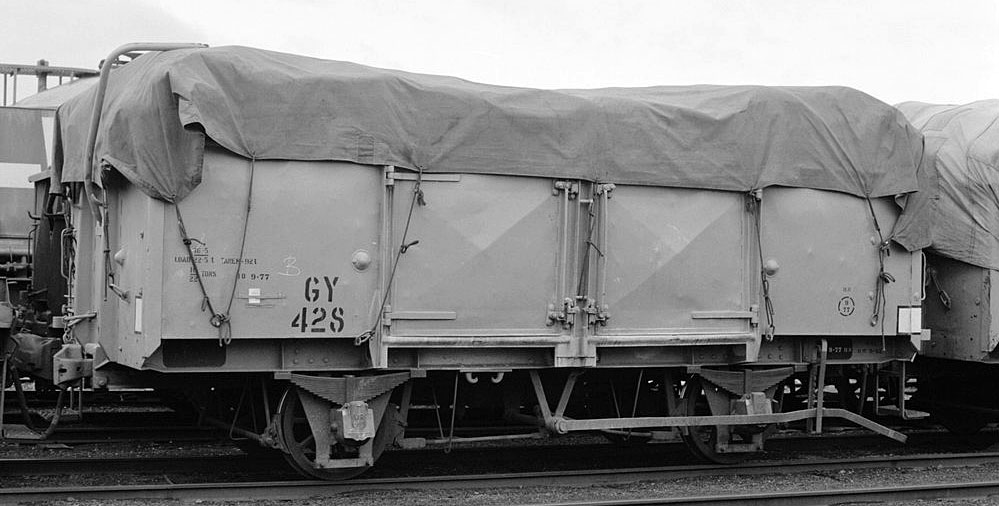 When loaded with wheat the tarps on GY's were quite consistenet but with other loads the tarping could get a little creative like we see here on GY 428, note the handbrake in the applied position, 1978.

Photo courtesy Peter J Vincent
---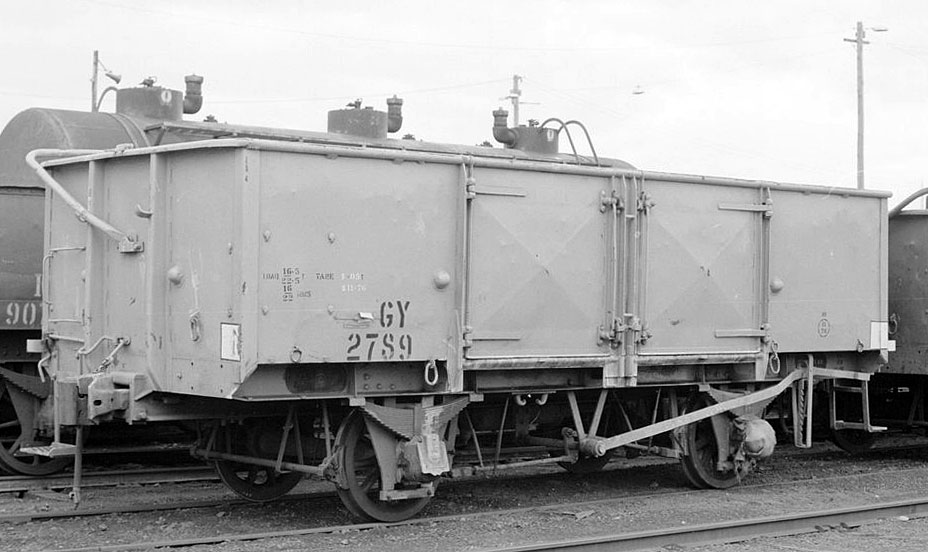 GY 2789, part of a group of 50 GY's built at Ballarat from 1946 - 1947. photo 1978.

Photo courtesy Peter J Vincent
---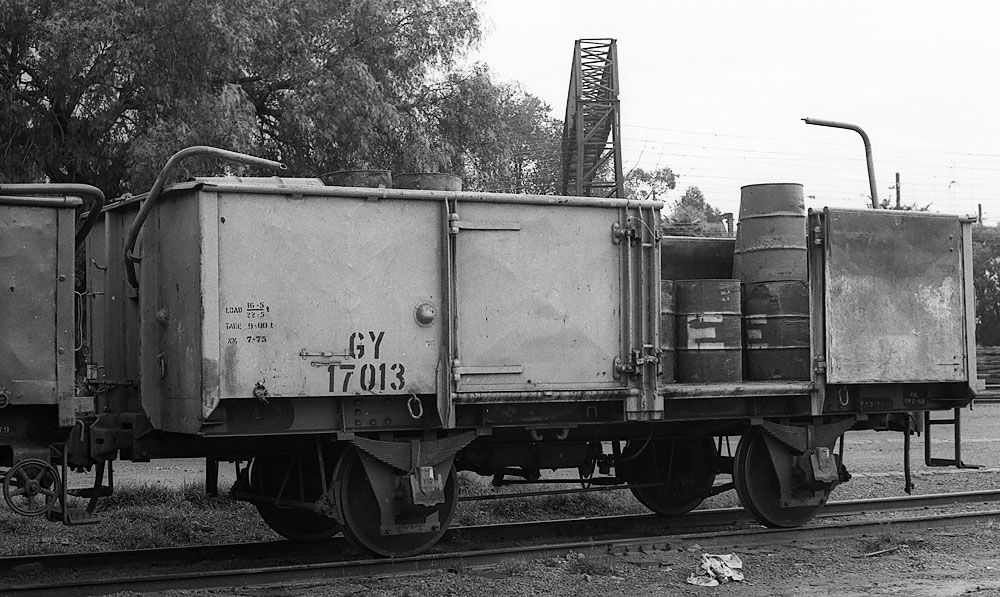 GY 17013 at Arden St. April 21 1978
---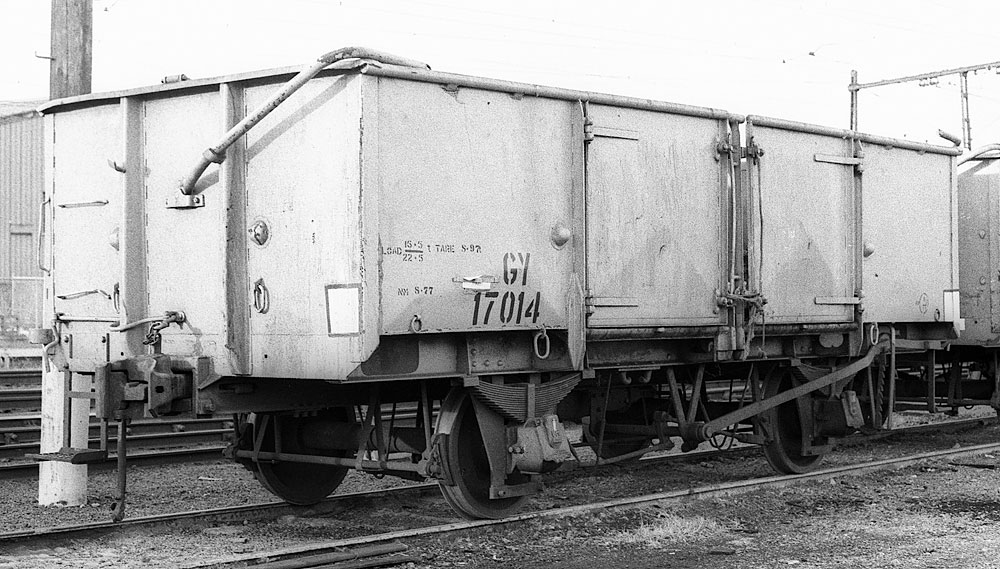 GY 17014 at Westall. May 20 1978.
---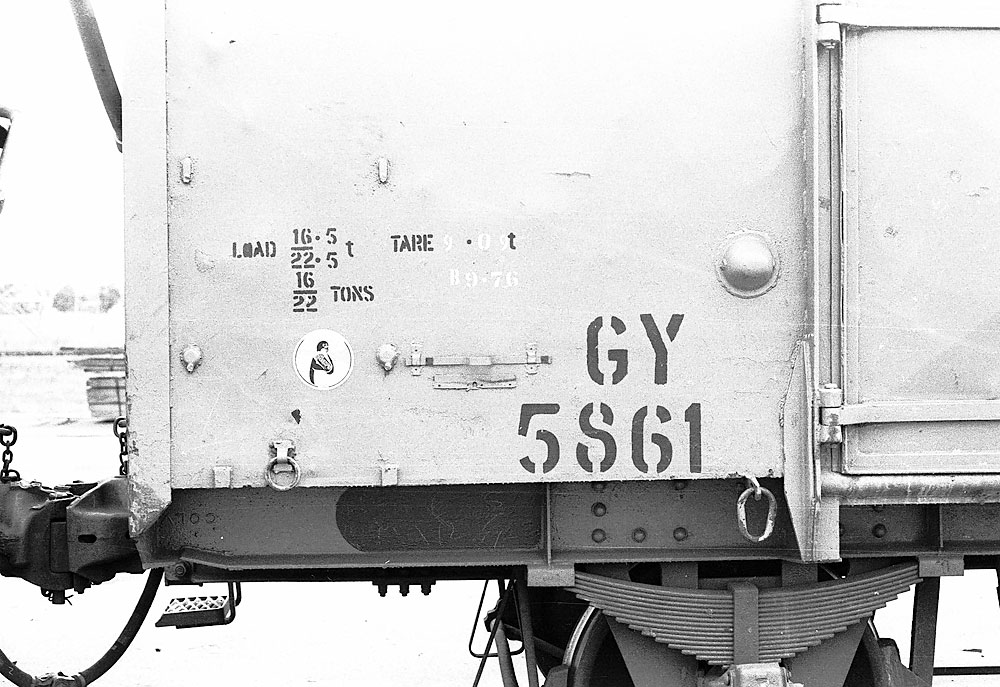 HY 16102 circa 1950, it was recoded to GY in the early 1960's
Official VR photo
---

ABOVE: Builders photo from Birmingham Railway Carriage & Wagon Co Ltd
Photo from State Library of Victoria collection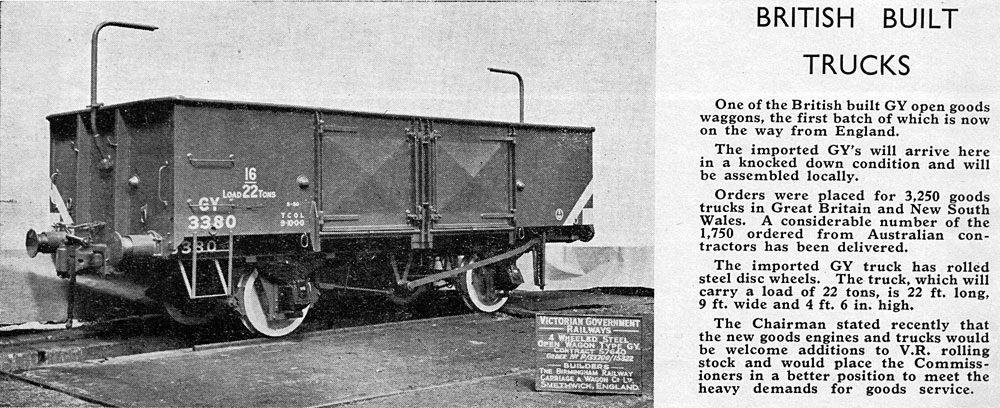 The article above is from the August 1950 VR Newsletter. GY 3380 was the first of a batch of 250 GY's built in England. The Birmingham Railway Carriage & Wagon Company went on to build a total of 750 GY's with another English builder, Metro Cammel, also building 750 GY's
---
| | |
| --- | --- |
| | Prior to the introduction of the all over Hansa Yellow paint scheme, GY 3871 was painted in this test scheme in 1970. It is not known if it ran in revenue service with this paint scheme. GY 5978 was possibly painted in this scheme too. |

GY 16230 just after receiving its coat of Hansa yellow, Nov. 25 1970. This is a VR photo so it may have been the first
GY painted in the new scheme.
Official VR photo PRC 1754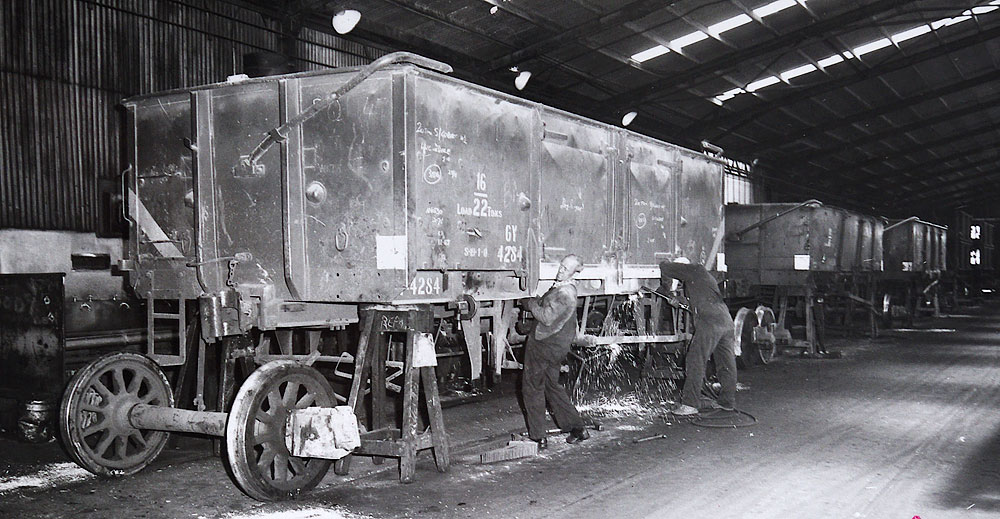 GY 4284 is "lifted" at Ballarat workshops in Dec. 1972.
The lifting process was a periodic overhaul, every 5 years for most goods stock.