GY open/grain wagons

GY 3 at Ararat, 1979.
Perhaps the best known wagon class on the VR because of their sheer numbers. A very common sight on the VR was long rakes (maximum of 73) of GY's hauling the wheat harvest. When not hauling wheat they could often be seen carrying all sorts of loads including containers, farm equipment, superphosphate etc.

As built the GY's were painted in the normal VR wagon red, from 1948 a diagonal yellow stripe was applied to differentiate them from identical looking but non grainproofed HY's. From 1970 GY's were progressively painted "Hansa yellow". The shade/colour of the yellow varied from workshop to workshop and also depended on how long since it had been painted as the yellow often faded dramatically. For accurate modeling of a rake of yellow GY's it is vital that there be many different shades of yellow as that's how they were in real life.
BELOW: "As built" photos of GY 405 which was built at Newport and on register Dec. 9 1941.
The diagonal yellow stripe did not appear until 1948.
GY 16582, photographed in 1978, showing the yellow stripe they carried from 1948 until painted all over yellow
starting in 1970.
---
With over 6,000 GY's, it was a bit of a badge of honour to see and/or photograph it. I only saw, and photographed it once and strangely the film has gone missing, luckily Rob O'Regan still has his negative of it for all to enjoy, photo late 70's
Photo courtesy Rob O'Regan
BELOW: GY 1 at North Geelong June 20 1978
photo courtesy Geoff Winkler
---
| | |
| --- | --- |
| | |
| | |
| This photo shows the bottom part of the door without grainproofing | This photo shows the "lip" under the door as well as the gussett next to the hinge, also note the different style of hinges. |
The photo below shows grainproofing on an outside sill wagon.

GY 4236 at Donald 1977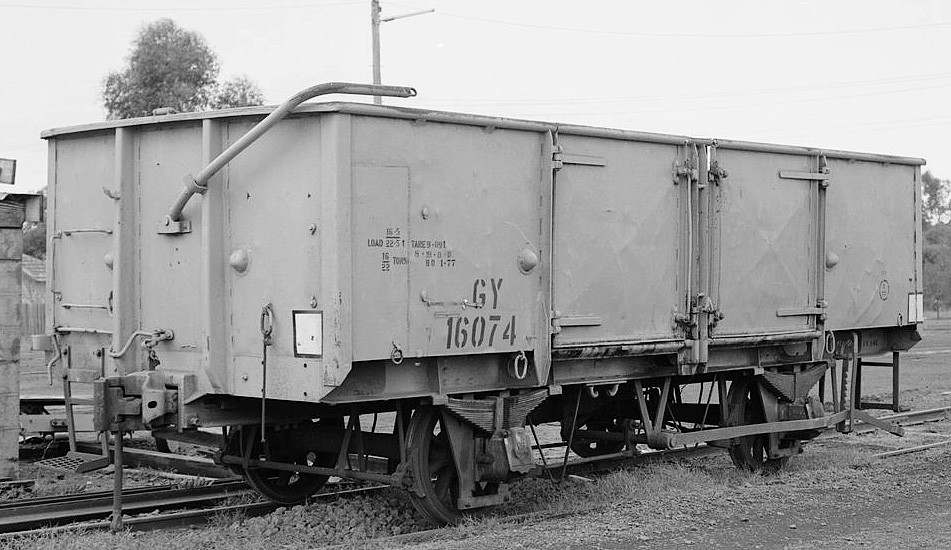 ABOVE: GY 16074, late 1970's.
Photo courtesy Peter J. Vincent
BELOW: The undignified ending for almost all GY's was a trip to Simsmetal at Brooklyn
where they were cut up for scrap metal. Brooklyn 1980.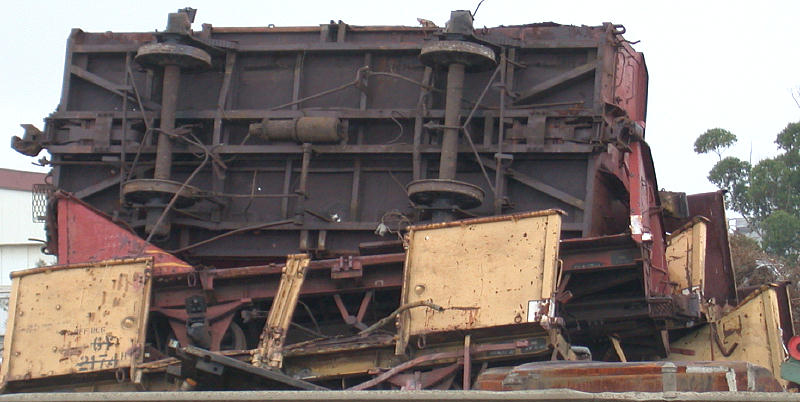 BELOW: Diagram showing a GY's converted for carrying water
it is unknown if this was ever actually carried out.
Page last updated Thu, Sep 1, 2016