Dining / Buffet Cars
========
Goulburn, Campaspe, Wimmera.
ABOVE: Goulburn was one of three dining cars built to the E car design and entered service 1908. The other two were Campaspe and Wimmera. The 1908 annual report tells us that these three cars were put to use on the Melbourne to Albury and Melbourne to Adelaide lines. In 1932 Goulburn was heavily modified when sleeping berths were added.
ABOVE: Goulburn after it was modified in 1932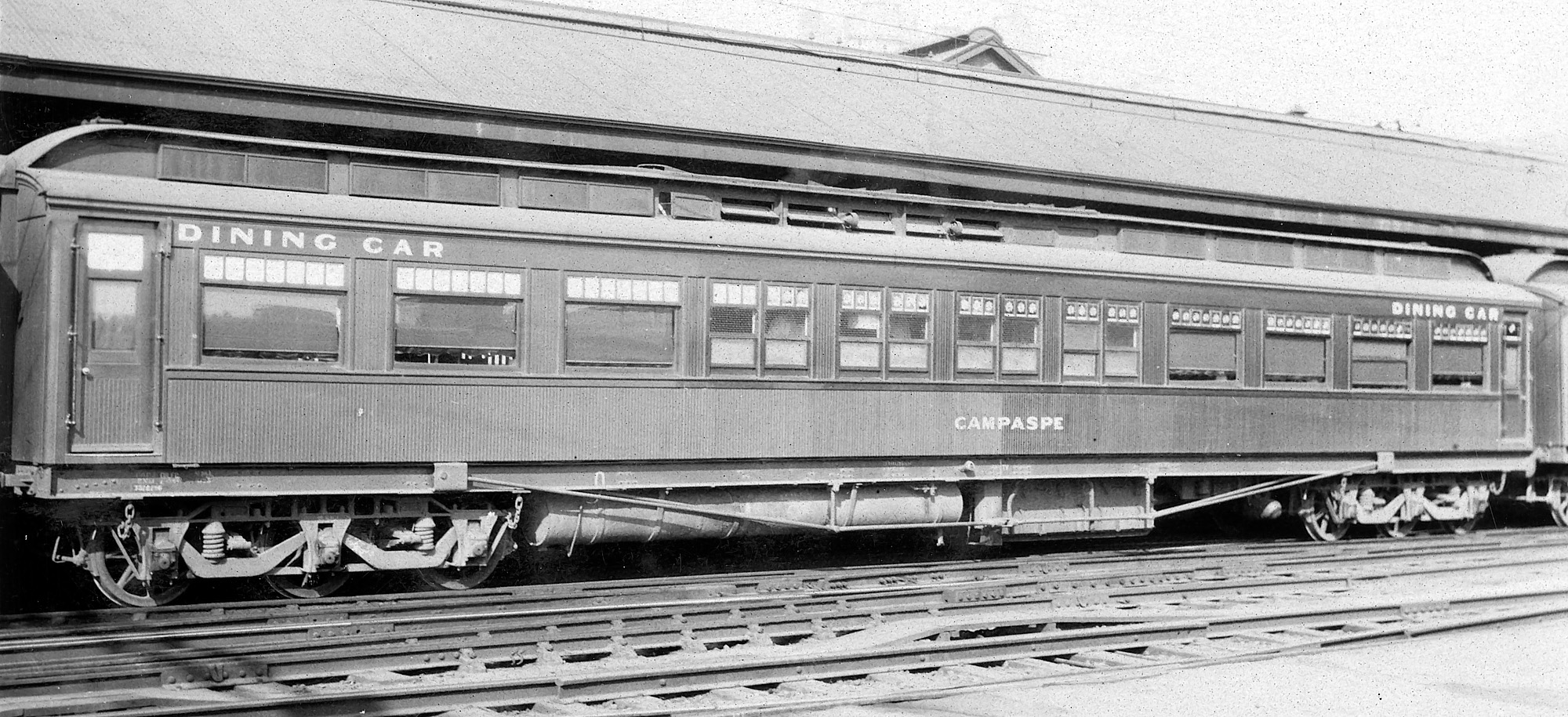 ABOVE: Campaspe at Spencer St, circa 1925. (Madden collection, SLV)
BELOW: In 1952 Campaspe was no longer needed for mainline dining car duties and was relegated to being the kitchen/dining/sleeping car on the Breakdown train. July 1980. (photo courtesy Peter J Vincent)
BELOW: Like Campaspe, when Wimmera was no longer needed as a dining car it was re-purposed for departmental use as the Medical Vision & Test car in 1938. It was a major rebuild which saw it lose many of its windows and central doors being added. A later "preservation" effort (circa 1988) saw it painted blue and given the name Wimmera even though it looks nothing like the Wimmera dining car which was never painted blue. Photo Jan 1983 (photo courtesy Rob O'Regan)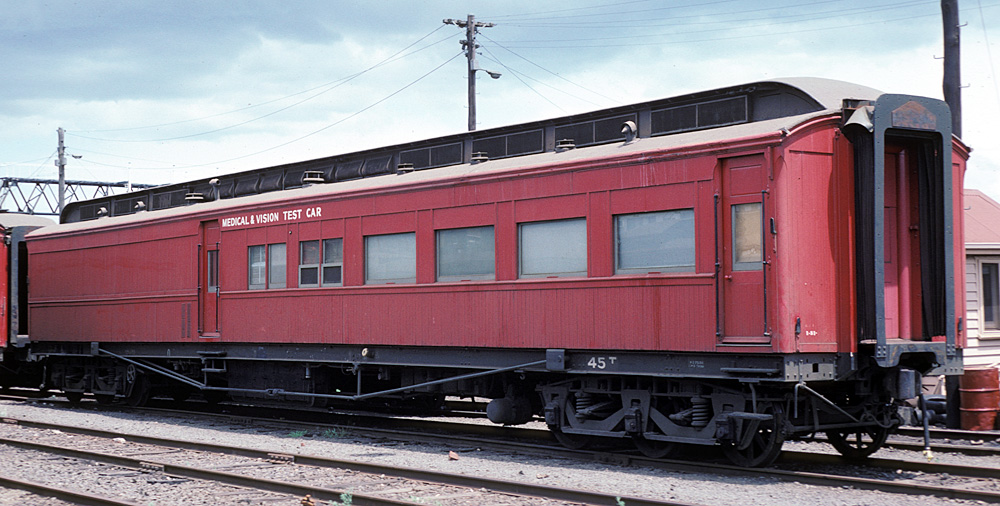 In 1938 Wimmera was removed from dining car service and extensively re-built as a Medical Vision & Test car. The car would be hauled to country locations where a railway doctor would perform periodic medical examinations on railway staff. By about 1980 the car was out of service. No photos of Wimmera as a dining car have been found.
========
Avoca, Hopkins.
ABOVE & BELOW: Avoca and Hopkins were the first all steel passenger carriages on the VR, built in 1927. The 1927 Annual Report tells us that the first car built, Avoca, was first used on the royal train for the Duke & Duchess of York and then commenced running on Albury line trains and that the second car, Hopkins, was put into service on the Adelaide Express between Melbourne and Ararat. Apart from the Pullman built cars they were the heaviest passenger cars to ever run on the VR, weighing 76 tonnes. The only bogie capable of carrying its great weight was a suburban motor car bogie shown above. Avoca was Air-Conditioned in Feb 1936 and was the standby dining car for the Broad Gauge Spirit of Progress. It was painted blue and gold in Dec 1953 for a royal train. It was equipped with Comonwealth bogies sometime in the 1970s. It is preserved in the Historical vehicles fleet. Hopkins was sold to Commonwealth Railways Feb 1 1950 and was "written off" March 29 1968. Scrapped by Jan 1969 It is believed that when the SOP started running in Nov 1937 both dining cars were transferred to the Overland.

ABOVE & BELOW: Avoca was air conditioned in 1936 hence the "AIR CONDITIONED CAR" sign. Avoca circa 1936 (PROV)
ABOVE: Avoca at Ballarat May 1964. Note the kitchen window is open as it was still fitted with a solid fuel cooker at this time and was like a furnace inside even thought the dining salon was air conditioned. The name "Avoca" can just be seen on the side sill. (photo courtesy Neville Gee)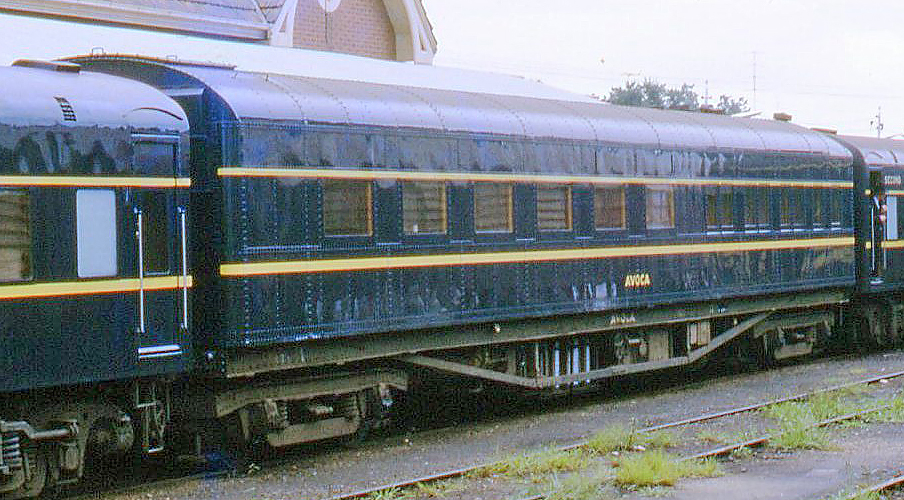 ABOVE: Avoca at Bairnsdale on The Gippslander. When the regular buffet car was unavailable, usually due to periodic workshops overhauls, Avoca would be the replacement. At this time Moorabool was the regular buffet car on The Gippslander. Note the name has now been duplicated on the car side. Feb 21 1971. (photo courtesy Neville Gee)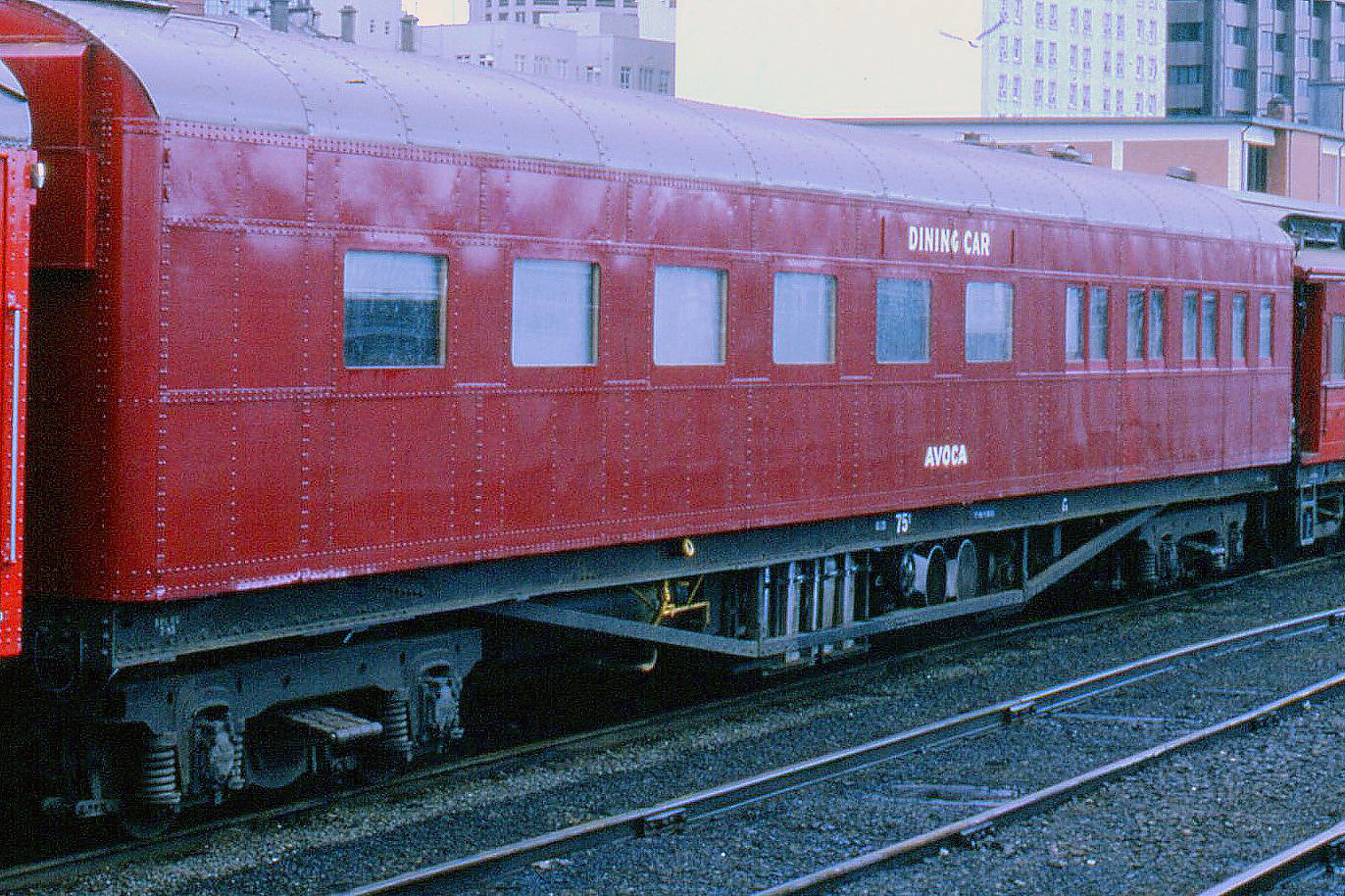 ABOVE: Since the previous photo, Avoca has been painted red and has now been fitted with Commonwealth bogies. March 17 1985.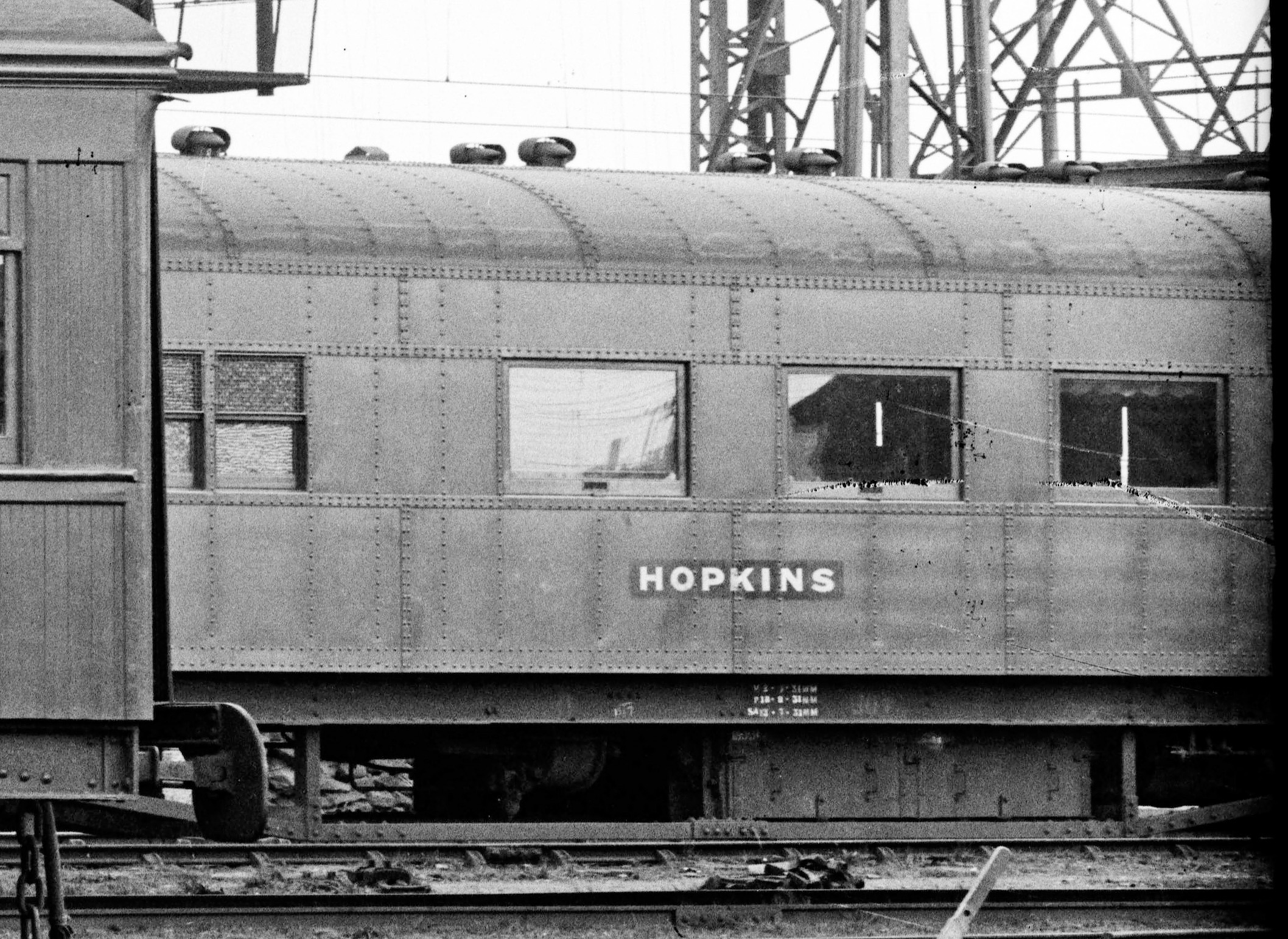 ABOVE: Whilst its sister car Avoca enjoyed a long and fruitful life, Hopkins was sold to the Commonwealth Railways in 1950 and scrapped in 1969. photo circa 1931
ABOVE: Ararat, circa1936, DDE 254 waits to attach Avoca or Hopkins to the up Overland.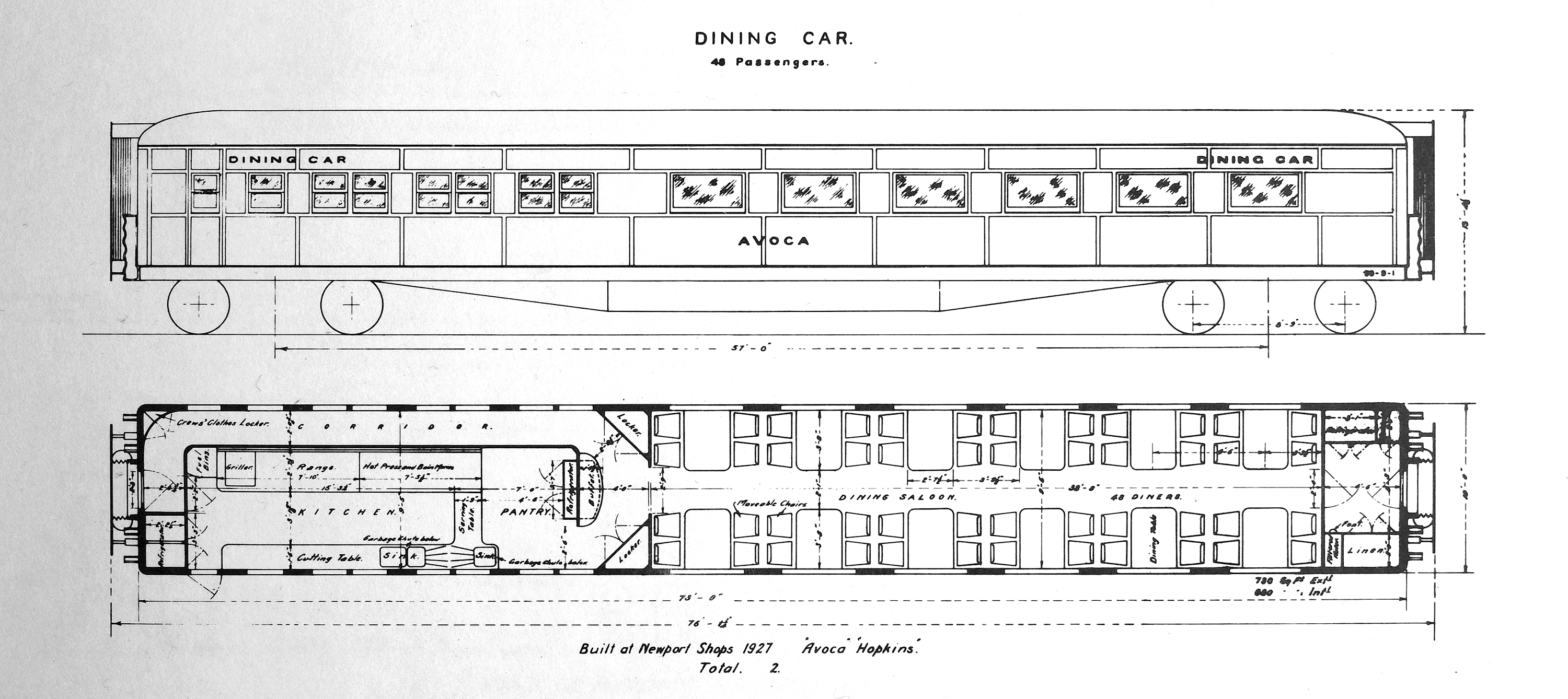 ========
Spirit of Progress Dining Car (later Murray)
ABOVE: "Dining Car" at Broadmeadows, Aug 1962. prior to it being named Murray. (photo courtesy Neville Gee)

ABOVE: Murray at Spencer St Jan 1989, photo courtesy Rob O'Regan
ABOVE & BELOW: Murray, built in 1937, was the dining car for the Broad Gauge Spirit of Progress passenger train that ran between Melbourne and Albury, however it was simply known as "Dining Car" until 1963 at which time it was named "Murray". Photo date 1986.

========
Buffet Car (later Taggerty)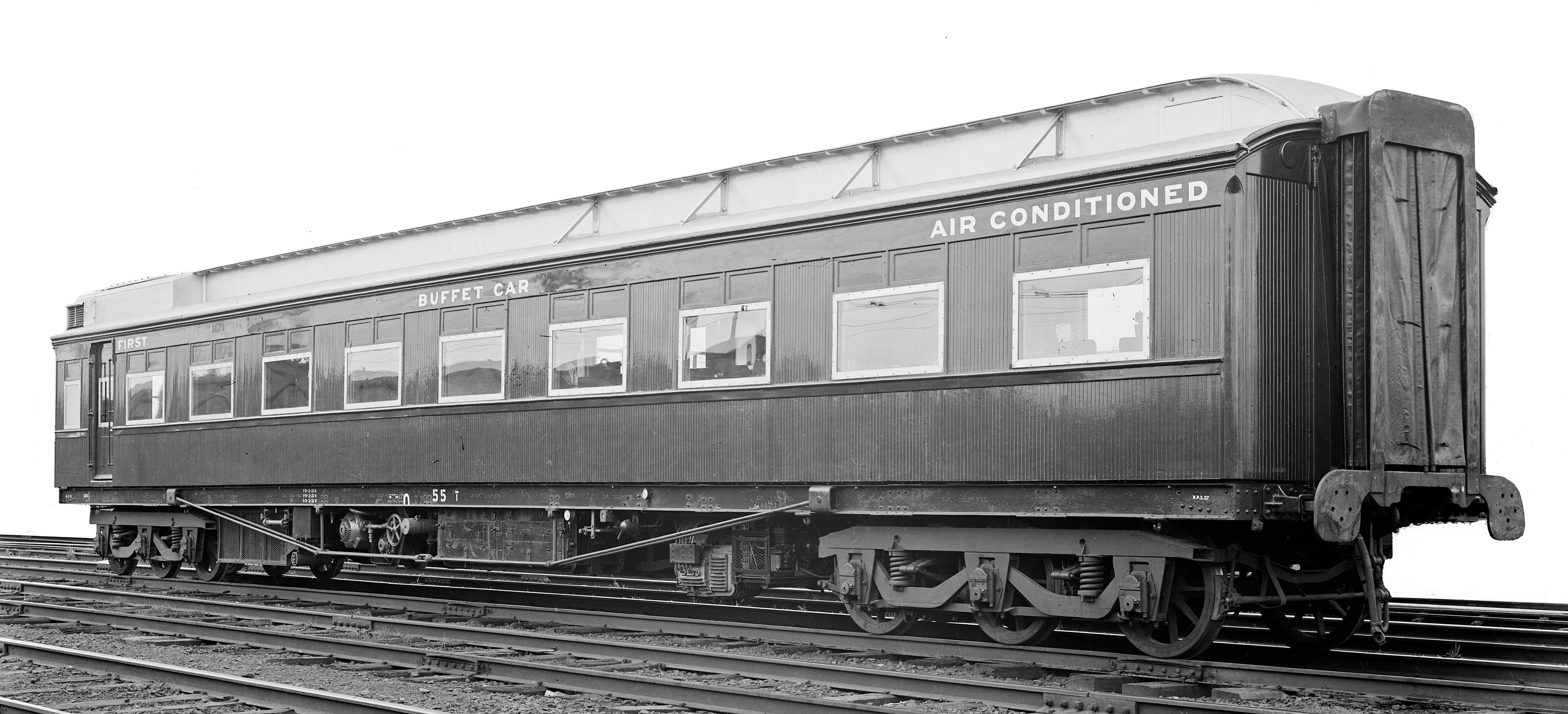 ABOVE: Taggerty might be considered a test as it was converted from AE 34 in 1937. Subsequent buffet cars were built new. It was initially simply called "Buffet Car" but got its name in 1939 when other buffet cars entered service. Upon entering service it ran on the 12 noon up Bendigo pass after it was attached to the up Swan Hill train at Bendigo, it returned to Bendigo on the 5.40pm down Swan Hill service. It appears to have run on the Bendigo line continually until its retirement in the early 1980s.
BELOW: Diagram drawn by Lance Cross
========
Steel Buffet cars: Wimmera, Mitta Mitta, Moorabool, Tanjil.
Between 1938 and 1939, VR built four 75' steel buffet cars: Moorabool, Tanjil, (combination buffet and 1st class compartment cars) Wimmera and Mitta Mitta (no passenger accomodation). According to the 1939 annual report they were used on the Albury, Bendigo, Horsham and Mildura services. As built they were painted in a red and silver livery. They enabled train schedules to be accelerated as they eliminated the need for lengthy refreshment stops. A popular misconception is that these cars were sometimes used on the Broad Gauge Spirit of Progress, (SOP) this is not correct. When the SOP was converted to Standard Gauge, Mitta Mitta became VRS 1, Wimmera became VRS 2 and Tanjil became VRS 3. Moorabool remained on the Broad Gauge and was the buffet car on the Gippslander for many years.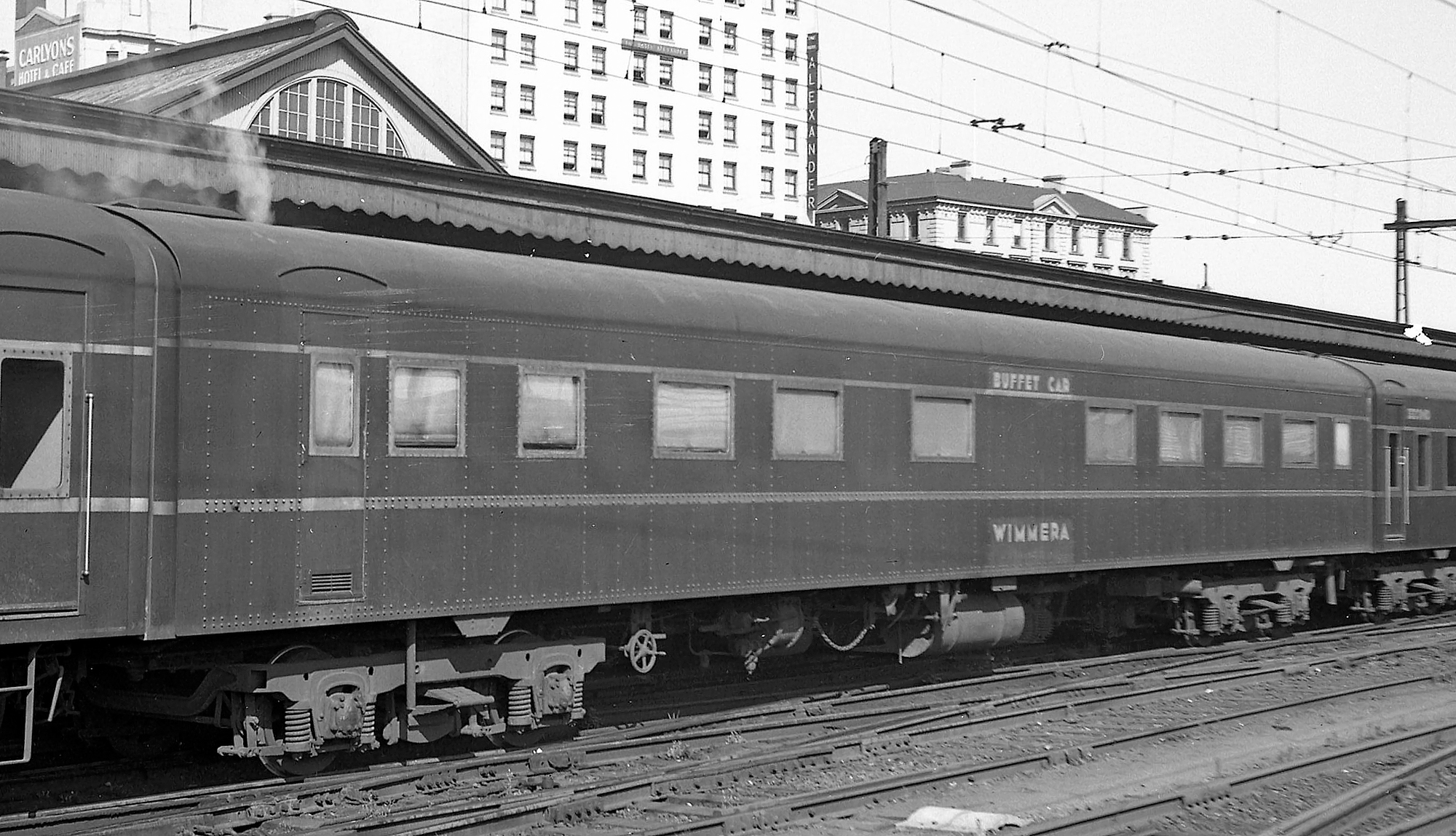 ABOVE: Wimmera at Spencer St, circa 1935. (photo courtesy Brian McClure)
BELOW: In 1962 Wimmera was recoded to VRS 2 and placed on standard gauge seen here at Spencer St, Feb 1981.
ABOVE: Interior view of Wimmera, most likely just after construction, photo courtesy PROV
BELOW: Diagram after conversion to VRS, courtesy Peter Enlund
========
ABOVE & BELOW: Tanjil was issued to traffic in 1937 and is notable in that its body was the first all welded body with no protruding rivets. In 1962 it was placed on the Standard Gauge and became VRS 3. Photo below circa 1954.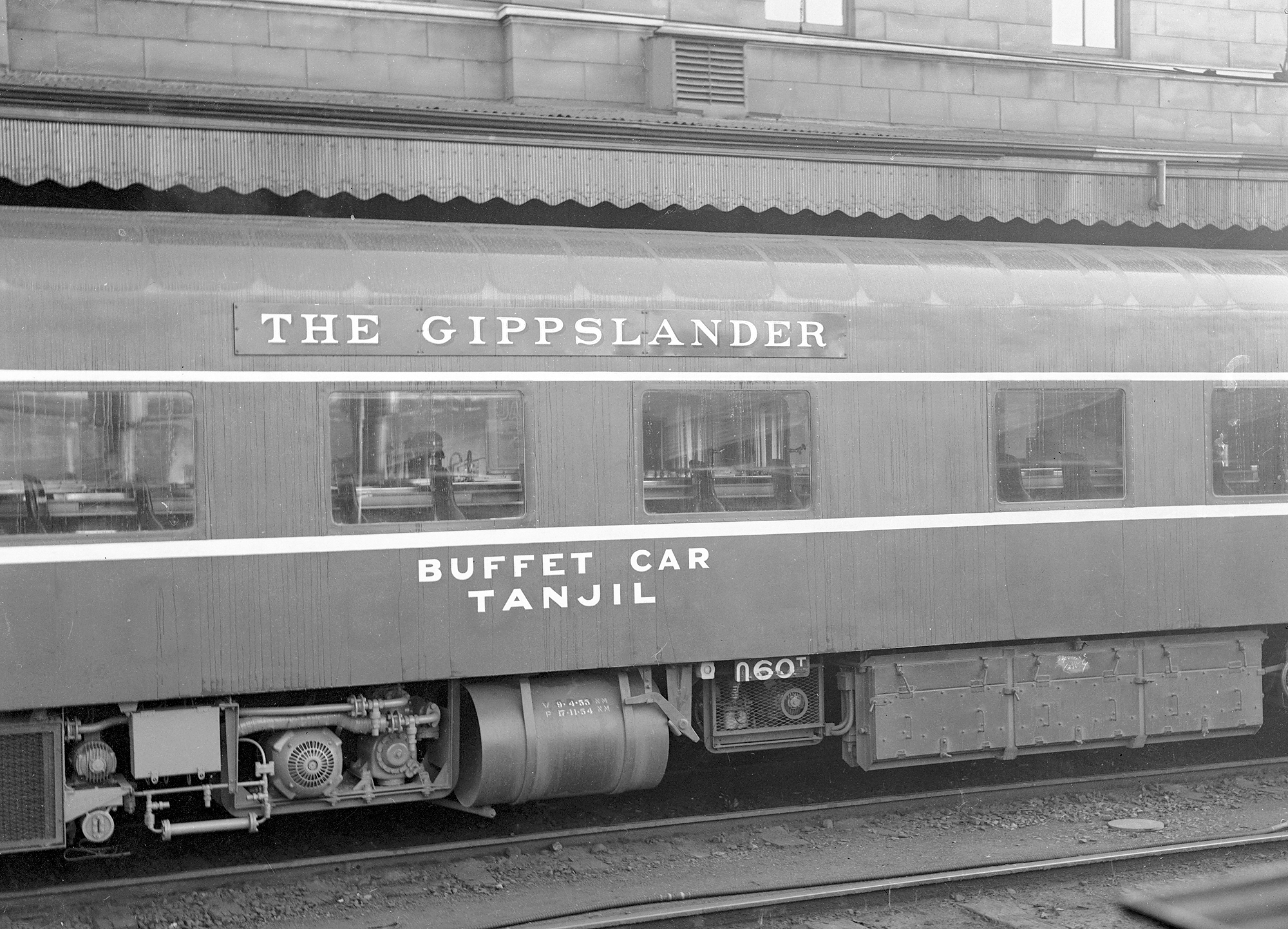 ABOVE: VRS 3 at Sth Dynon in 1978, prior to renumbering to VRS 233, photo courtesy Rob O'Regan

ABOVE: VRS 233 (ex Tanjil) at Spencer St, Aug 1986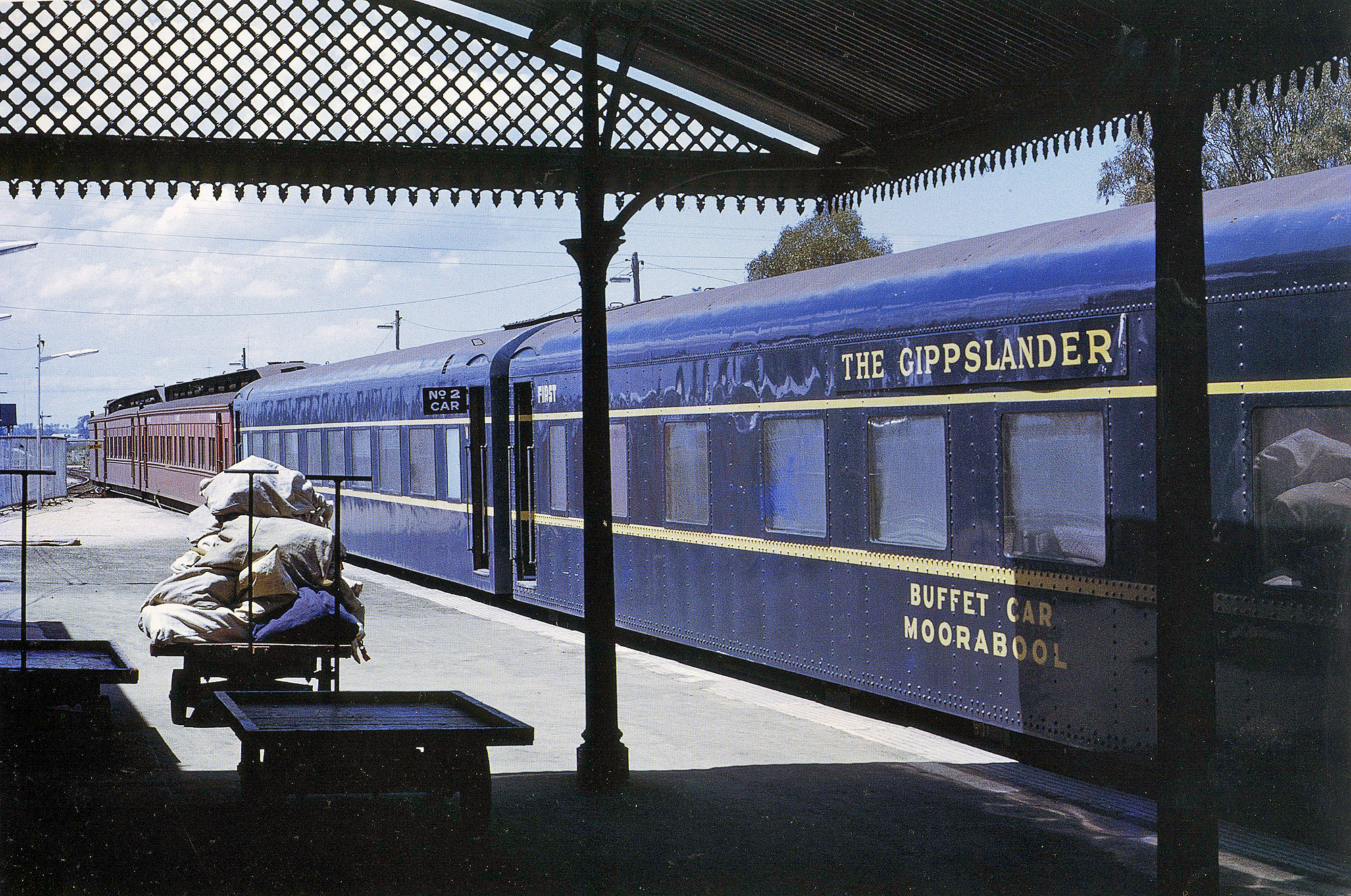 ABOVE: Moorabool at Bairnsdale Feb 1972. (photo courtesy Neville Gee)
========
Restaurant Cars, Moyne & Kiewa
ABOVE: Moyne circa 1959, (John Buckland photo) In 1955 two "Restaurant" cars were issued to traffic. AE 21 was converted to Kiewa and AE 26 was converted to Moyne. The conversion involved removing all but 3 passenger compartments, air conditioning the cars and installing a small kitchen. The cars were attached to the morning up trains from Horsham and Warrnambool and returned on the evening trains to the same locations. The services must not have been a great success as they were converted to sitting cars in 1961 and recoded BG 1 and 2.
ABOVE: Diagram for the restaurant cars. BELOW: Diagram after the cars were converted back to all sitting cars, they had a unique seating plan. (diagrams courtesy Phil Dunn)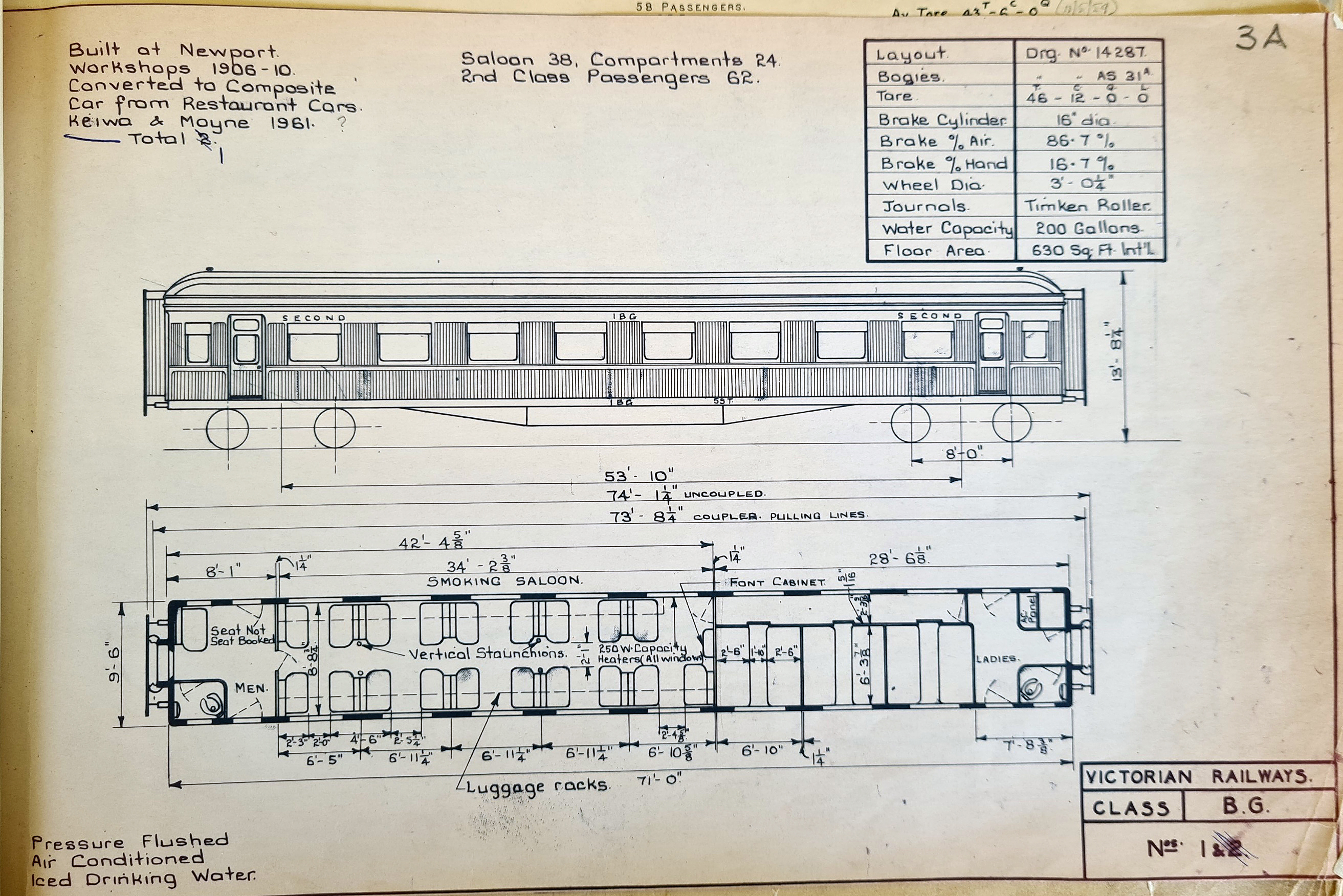 ========
Mini Buffet Cars, MBS.
ABOVE: An official VR photo of freshly converted MBS1, photo date: April 18 1966.
MBS: Converted from BS/AS cars by removing some compartments and installing a small area with counter where basic food and drink service was provided. Built for use on the Mildura Sunlight train, they were later a common fixture on BG Albury trains.
MBS 1 ex BS 2 1966
MBS 2 ex BS 3 1966
MBS 3 ex AS 9 1968

ABOVE: MBS 1 at Spencer St. 1980. Note the two smaller windows at the left hand end indicating the buffet section. MBS 1 was converted back to a BS (13) in 1983 for reasons unknown

ABOVE: MBS 1 at Albury, Sep 1981. (photo courtesy Rob O'Regan)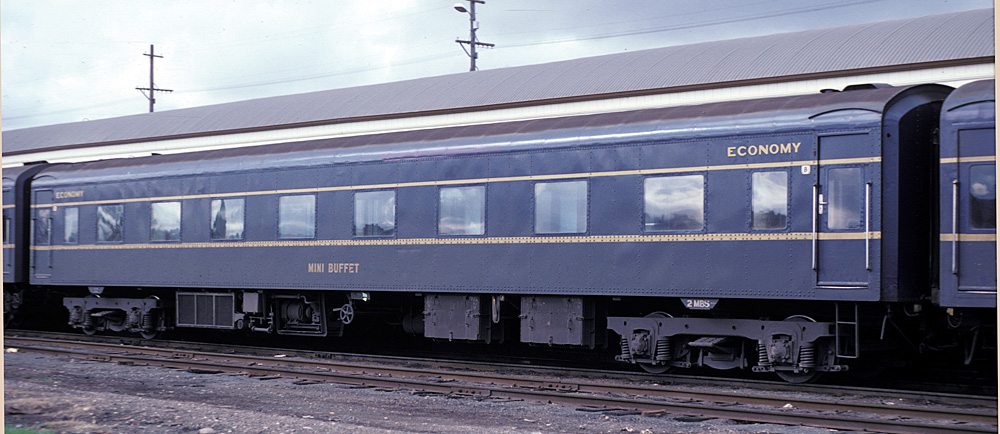 ABOVE: MBS 2 at Albury, Aug 1982. (photo courtesy Rob O'Regan)
========
Mini Refreshment Cars MRS
In 1977 two BS cars were converted to Mini Buffet cars for the Vinelander train that ran between Melbourne and Mildura.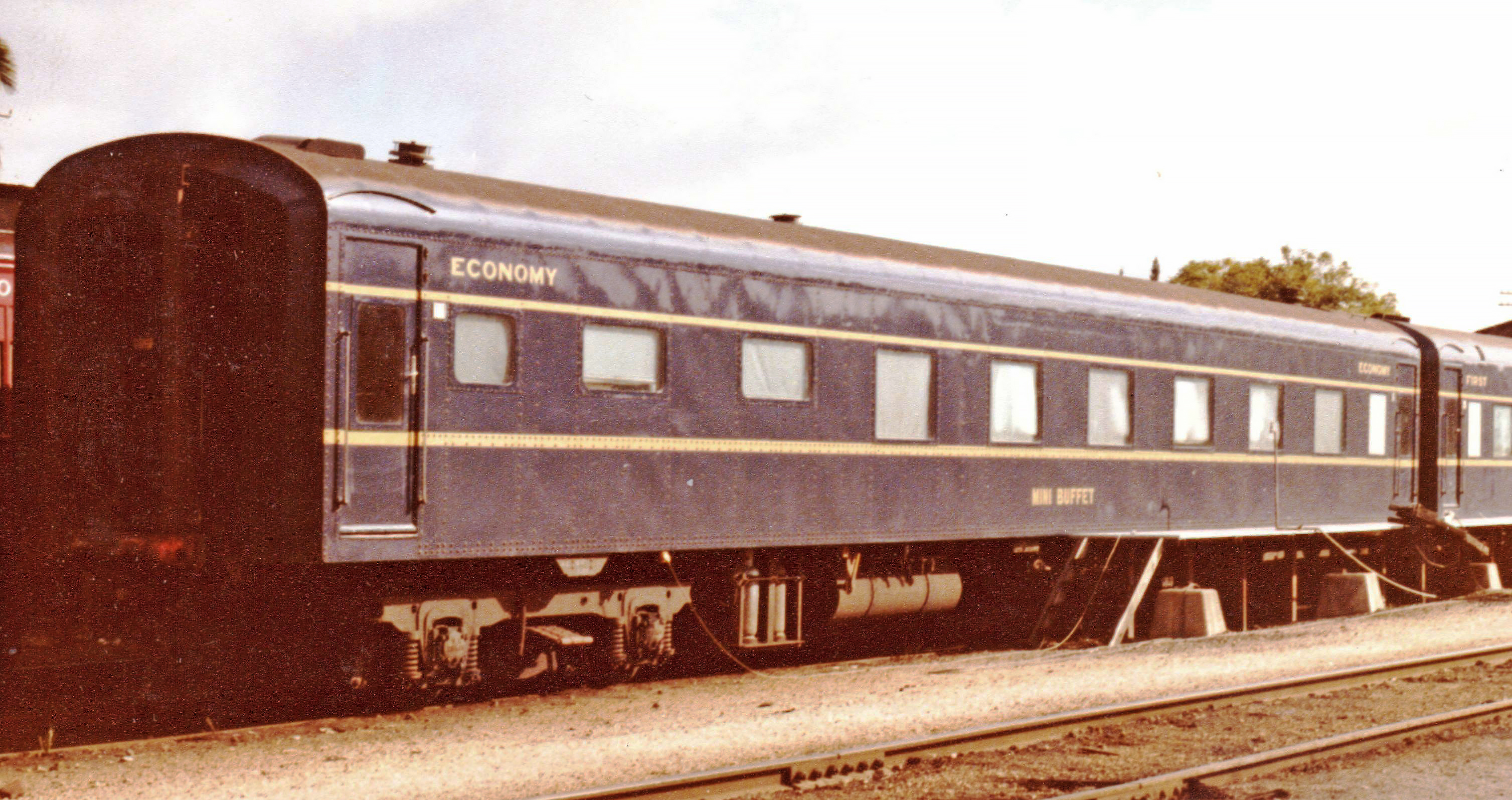 ABOVE: MRS 2 at Mildura Nov 1980, photo courtesy Bruce McLean
ABOVE: MRS 1 at Mildura Aug 1981, photo courtesy Bruce McLean.
ABOVE: MRS 2 at Mildura Sep 1982, photo courtesy Bruce McLean
ABOVE: Diagram courtesy Peter Enlund