Z Guards Vans
Perhaps nothing signifies the Victorian Railways as much as a Z van. Like grandfathers axe they went through both underframe and body rebuilding. They had no toilet facilities nor electric light, stoves were fitted in the mid 50's. By the late 70's there were very few Z's left as most had been converted to ZL's. The Z's that were left were mainly in non-revenue service.

1 - 265 were built as "D" vans and reclassified to Z circa 1910
1 - 626 were 3 axle. 627 - 746 were 2 axle
Classes that came from Z vans include:
ZL: long coupler shank
ZB: ballasted van (3 extra tons tare)
ZD: dual coupled
ZP: dual coupled, able to run at 60 MPH
ZZ: a bogie version that ran for a short time in 1958 - 1960
ABOVE: D 4. This photo appeared in the 1894/1895 annual report. This was the second D 4, it was into service March 29 1889 and ended up as a breakdown van at Ararat until it was scrapped in 1973. Note the handrail arrangement on the right.

ABOVE: D 117 in workshops, pre 1910.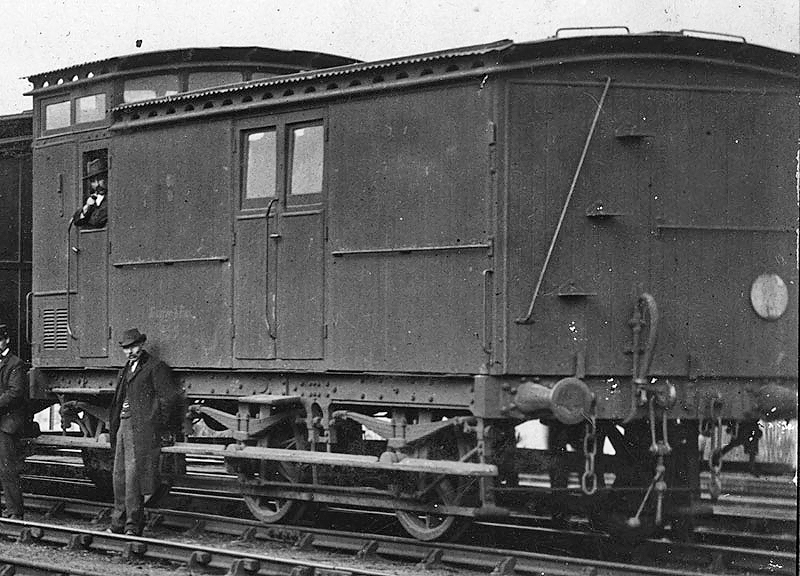 ABOVE: Unknown Z van in 1903, if this date is correct it would have been classed "D" at the time, the Z class did not come about until 1910. Circa 1889 the existing vans were equipped with Westinghouse air brake shown here by the vertical standpipe to the left of the coupler. By 1910 this arrangment was replaced by the familiar, lower brake pipe hoses.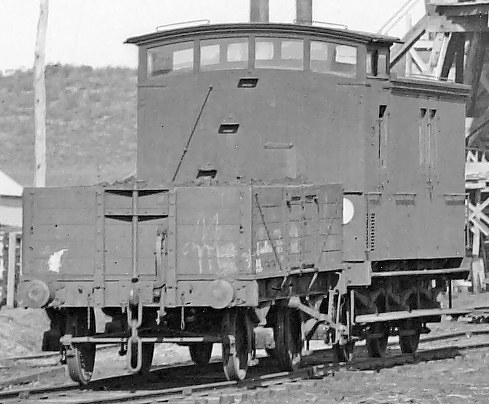 ABOVE: Unknown Z van at Powlett River Coalfields, June 18 1910. If this date is correct the highest number this van could be would be in the low 200's
ABOVE: Z 391 circa 1925. Madden collection SLV.
ABOVE: Z 13 at Dimboola, late 1970s. (photo courtesy Peter J Vincent) BELOW (photo courtesy Rob O'Regan)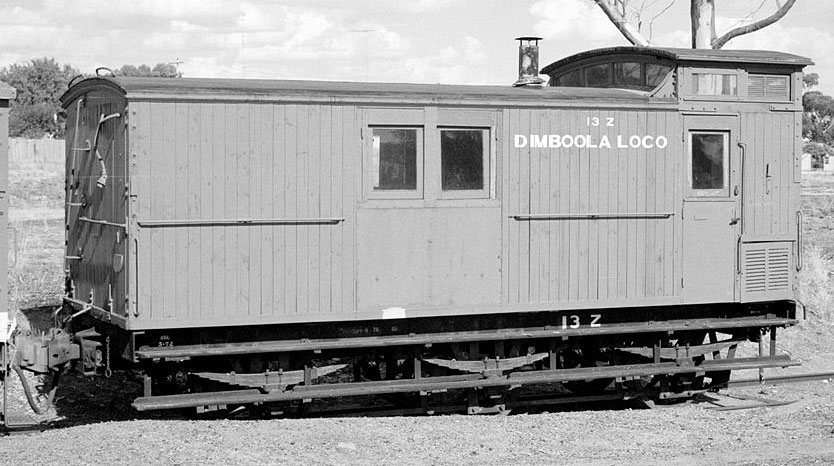 This is the content for Layout P Tag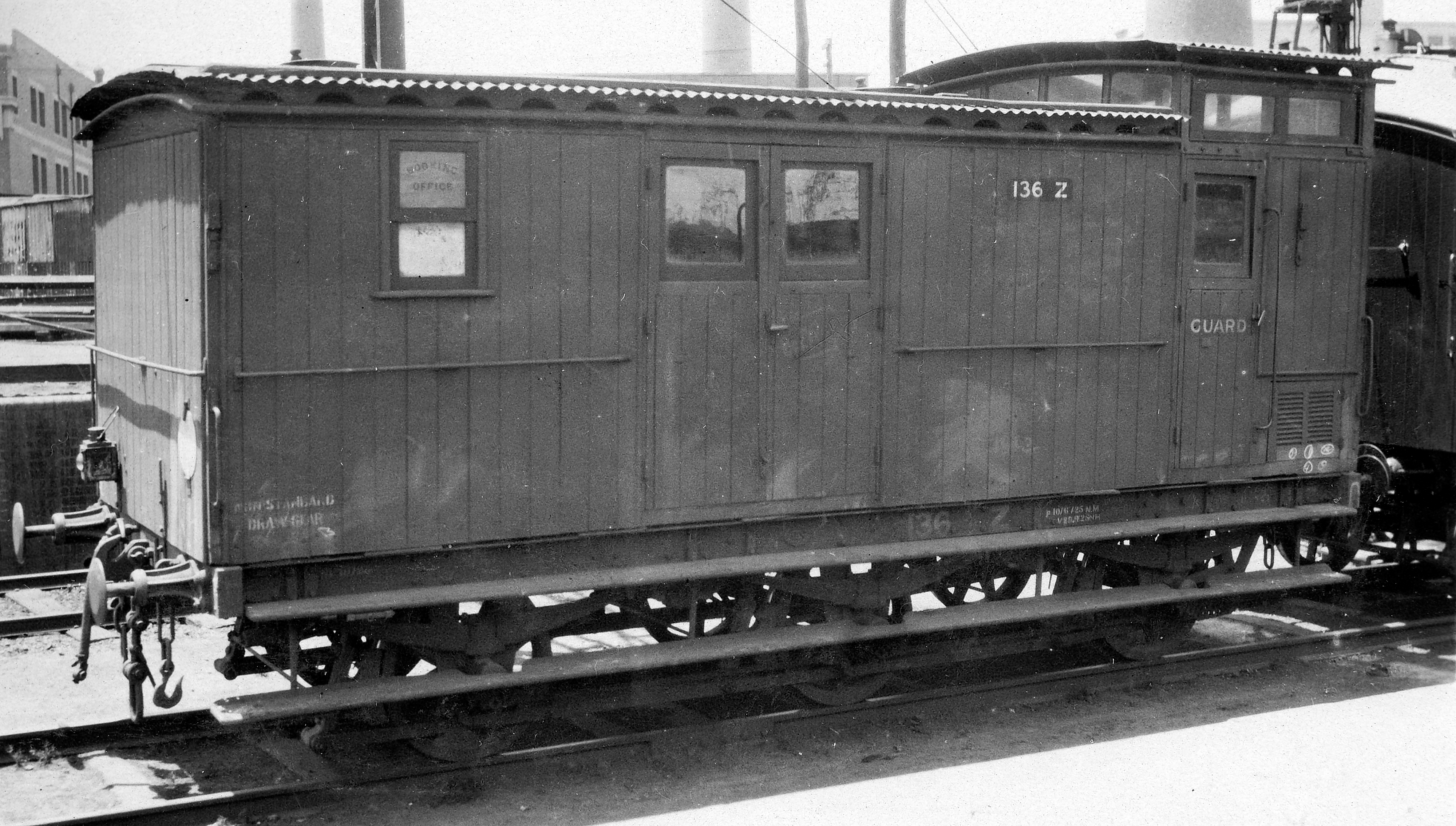 ABOVE: Z 136 circa 1925. It was built in 1884 and was equipped with Westinghouse Air brake in 1889. In 1910 it bacame Z 136 and in Dec 1912 was fitted up as a booking office as you see here, sadly it was not long for this world and was scrapped in March 1928. photo courtesy SLV
ABOVE: Z 174, out of service at Newport, March 1978.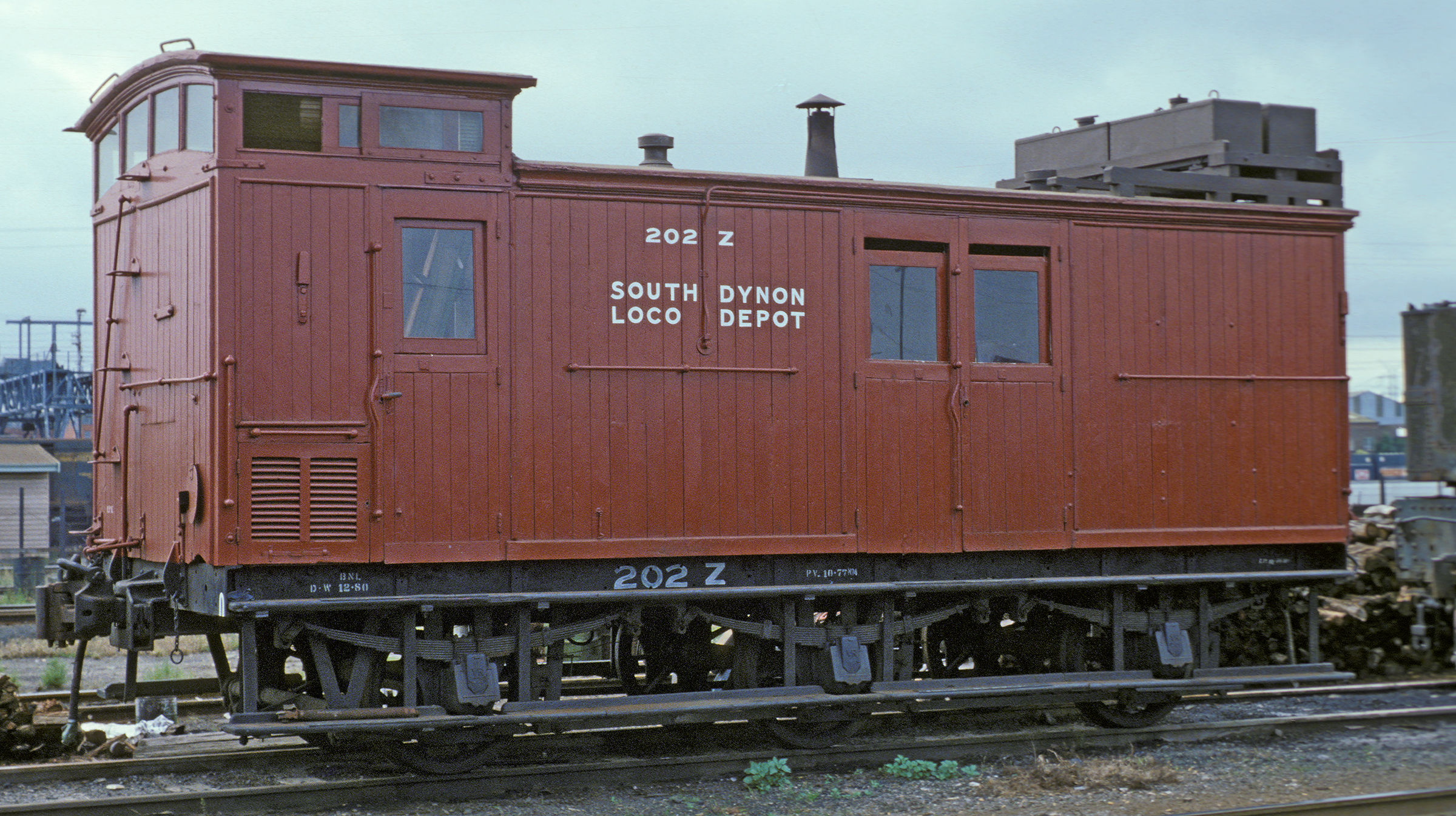 ABOVE: Z 202 at Sth Dynon, April 3 1978. (photo courtesy Geoff Winkler)
ABOVE: Z 315 at Ballarat 1970s. Photo coutesy Peter J Vincent.
ABOVE: Z 315 at Ballarat, 1977. This van went into "Ballarat Breakdown Van" service circa 1936. Interestingly it recieved the blank window modification even though it was in departmental service.
ABOVE: Z 329, built May 1912. It was autocoupled in April 1935 but was back in the workshops 3 months later, it appears to have had some sort of an accident that removed its cupola, the register shows that it went into the workshops on July 1 1935 and left the workshops Nov 13 1935 (136 days) to replace the cupola. It went on to live a long and happy life, finally being scrapped in 1978. (PROV collection)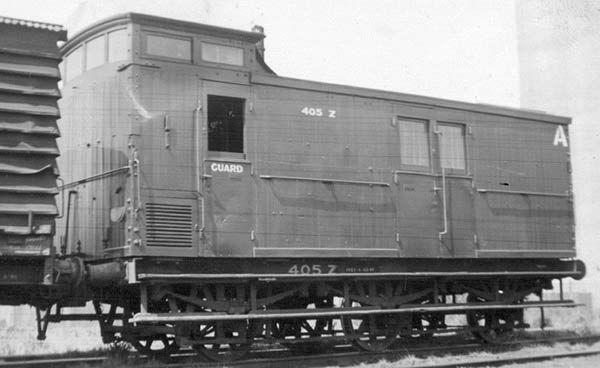 ABOVE: When the program to autocouple vehicles started, vans converted were identified with a letter A in the corners, the letter A lasted from circa 1950 until circa 1959. Photo courtesy Peter J. Vincent

ABOVE: Z 450 at Nth Melbourne circa 1925, built 1914, autocoupled 1935, to ZL 450 1960, scrapped 1970 photo courtesy PROV
ABOVE Z 555 in "as built" condition circa 1934, before auto coupling. Built June 1925, autocoupled May 1935, scrapped June 1956.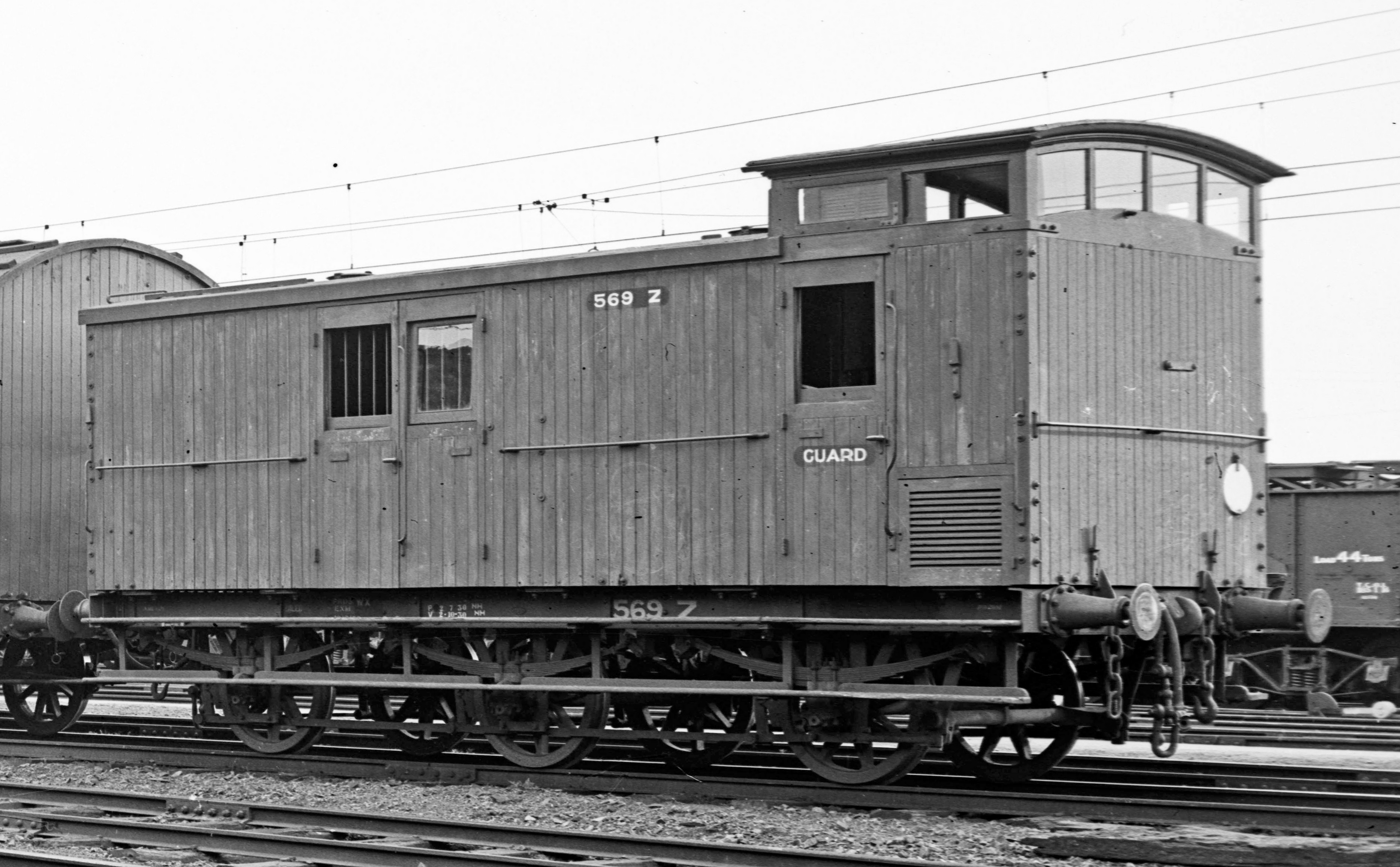 ABOVE: Z 569 circa 1930, it was autocoupled in 1935. photo courtesy PROV
Over the years the Z's recieved quite a few modifications including long couplers, gussets between roof and cupola, stiffeners along the bottom of the planks, stove/chimney, blanking of centre windows, double roof, blanking of dog compartment. Photo courtesy Victorian Railways
ABOVE: Z 590, this van and the following van, 593, appear to have spent most of their lives in non revenue service. The register shows both of them entering "Casualty van" service at North Melbourne loco circa 1930 and then as "Dynon Breakdown Van" in 1965, about the time loco operations in Melbourne were being moved from Nth Melbourne loco to Sth Dynon loco depot. The roof mounted tanks were almost certainly for showers which would mean some sort of boiler would have been inside. Sth Dynon 1977.
ABOVE & BELOW: Z 593 was attached to the breakdown train based at South Dynon. Note the blanked doors and different position of the chimney, it also had a sliding door cut into the non cupola end for communication into the crew car. Photo at South Dynon 1977.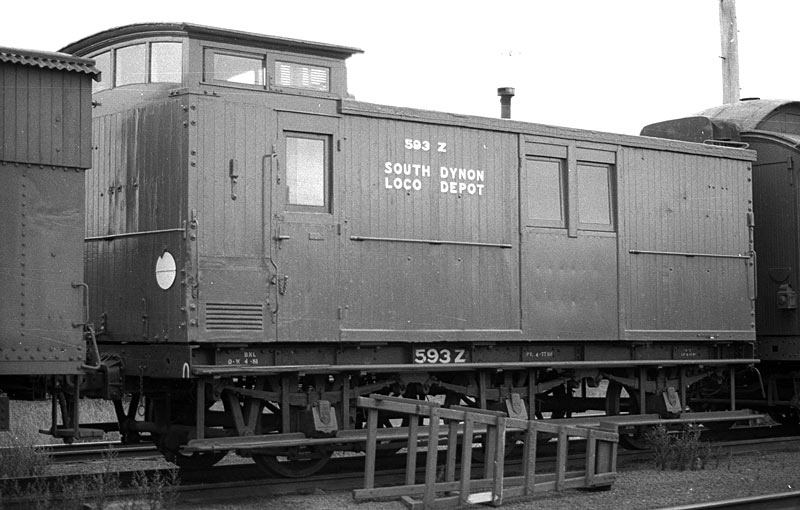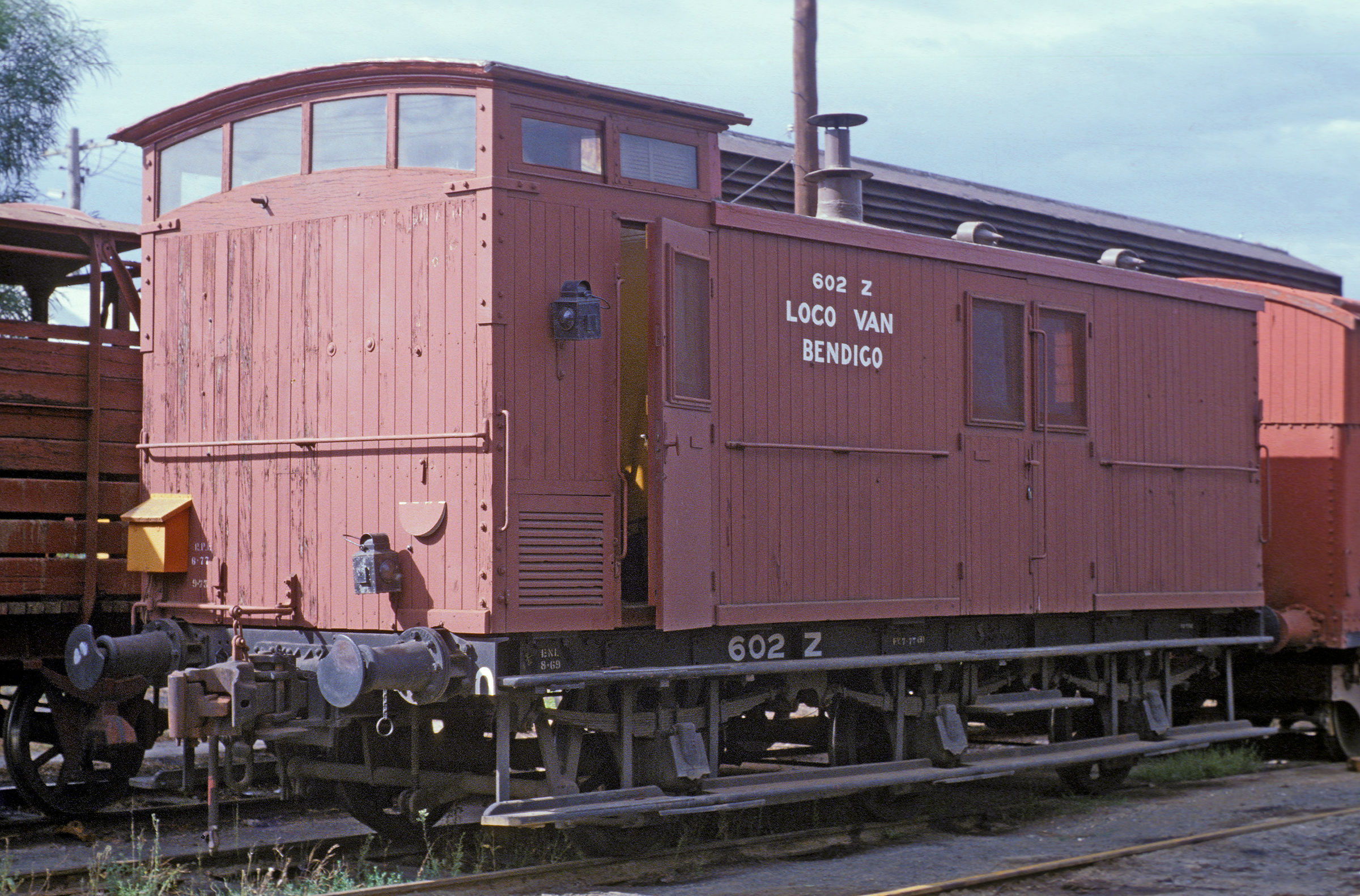 ABOVE: Z 602 at Bendigo March 7 1978. (photo courtesy Geoff Winkler)
ABOVE & BELOW: Z 602 at Bendigo 1977.
BELOW: A slightly different view of post 9, Feb 18 1982.
ABOVE & BELOW: In 1958, 2 axle Z 742 was fitted with bogies as a test, the test was an abject failure, the van rode rougher when fitted with bogies than it did with fixed wheels. The failure of this test led to the testing of longer draft gear which somewhat solved the problem of harsh slack action. It was converted back to a 2 axle ZL in 1960. (official VR photo)
Z 233
BELOW: Z 233 has an interesting story. The register shows that it was sold to John Sanderson & Co in March 1950, as the correspondence below shows, it contained the "electrical power plant" for the crane at Nelson pier which is where the steam N class were unloaded from ships. The stencil on the side read "FOR USE ONLY BETWEEN NEWPORT WORKSHOPS and NELSON PIER WILLIAMSTOWN" It appears that it was paired with Tommy Bent IA 4445 as they appear together in two different photos at different locations. As can be seen, it was heavily modified for this service. It is not known what became of this van after this traffic. (photos courtesy the McClure collection)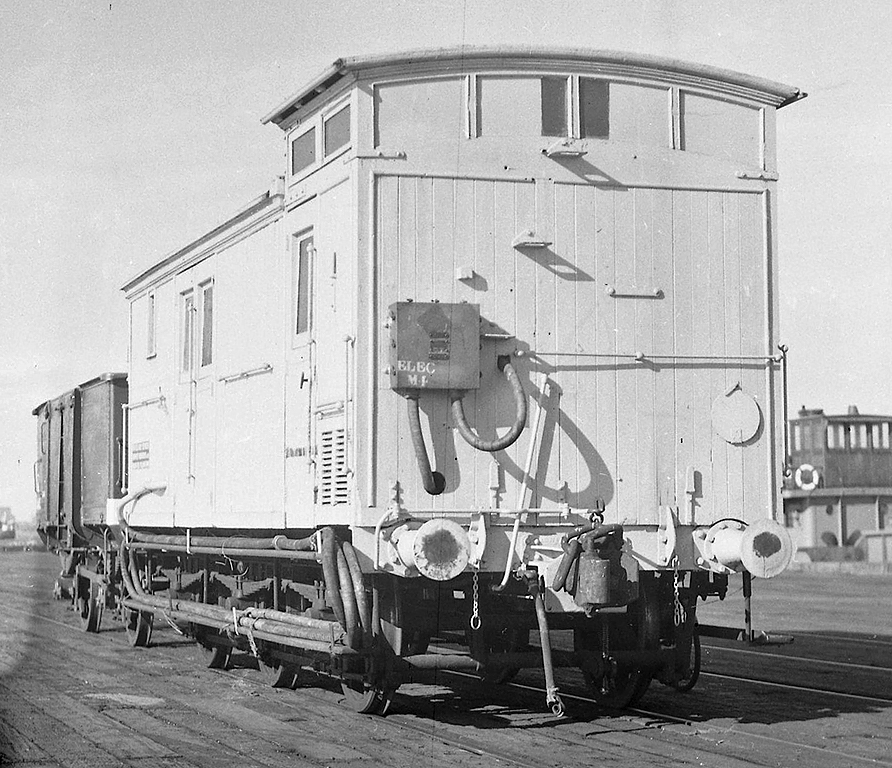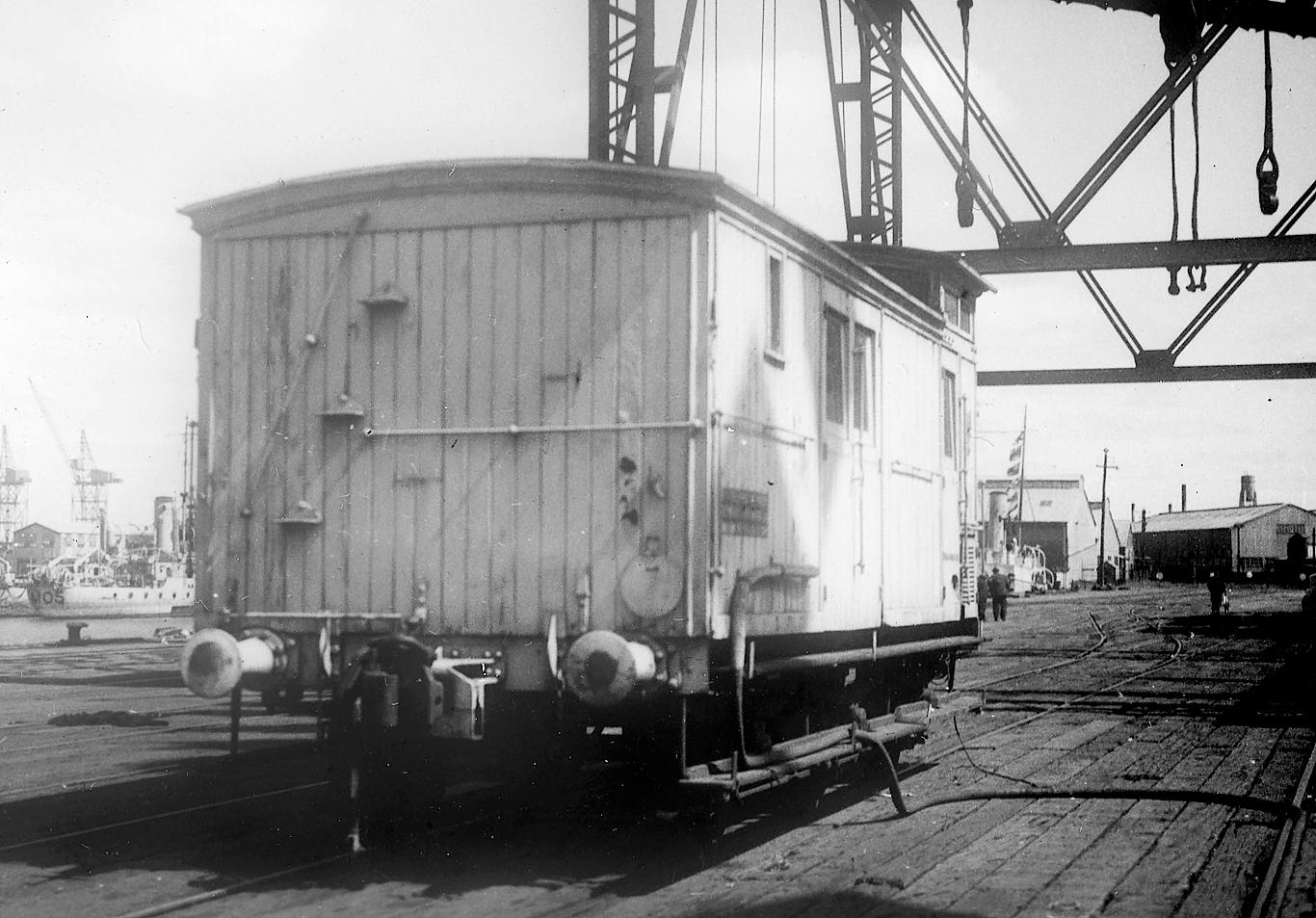 ABOVE: A later view, March 6 1954, when it was involved in unloading J class at Nelson pier, the electrical cables can be seen going to the crane. (photo courtesy Des Jowett)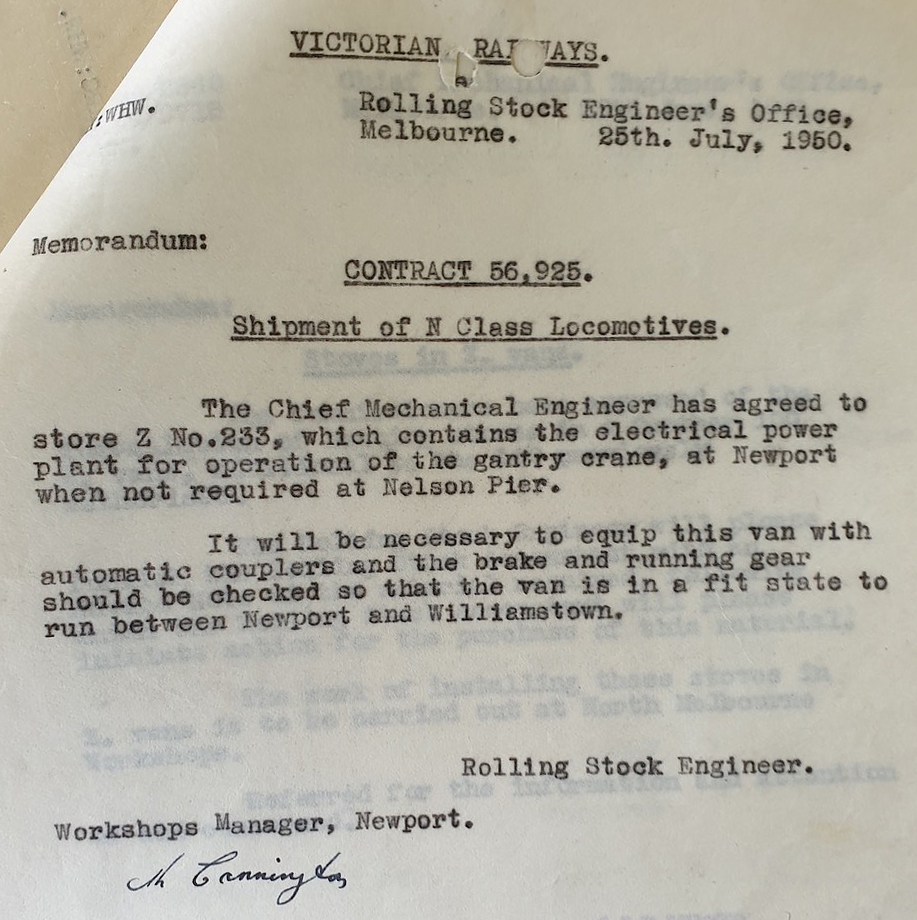 Clearance Wagon
In 1960 Z 218 was stripped of most of its body and equipped to test lineside clearances. This was to make sure that "out of gauge" loads could be safely handled. It also was equipped with a pantograph to measure the height of the overhead. All four photos Jan 1961.
BELOW: Article from the March 1961 VR Newsletter. ABOVE: diagram courtesy Peter Enlund