W workmen's sleepers (extra photos)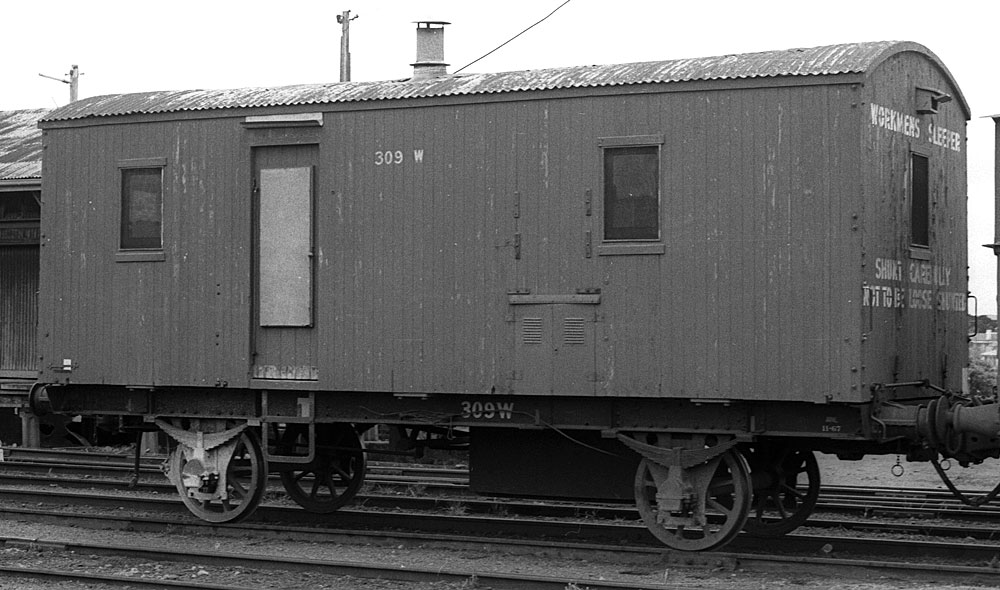 ---
ABOVE: W 312 stencilled for weighbridge fitters use, Tottenham, July 1979
Photo courtesy Rob O'Regan
W 312 was built new April 1928, note the strengthened ends
BELOW: W 312 at Benalla Feb. 21 1978
Photo courtesy Geoff Winkler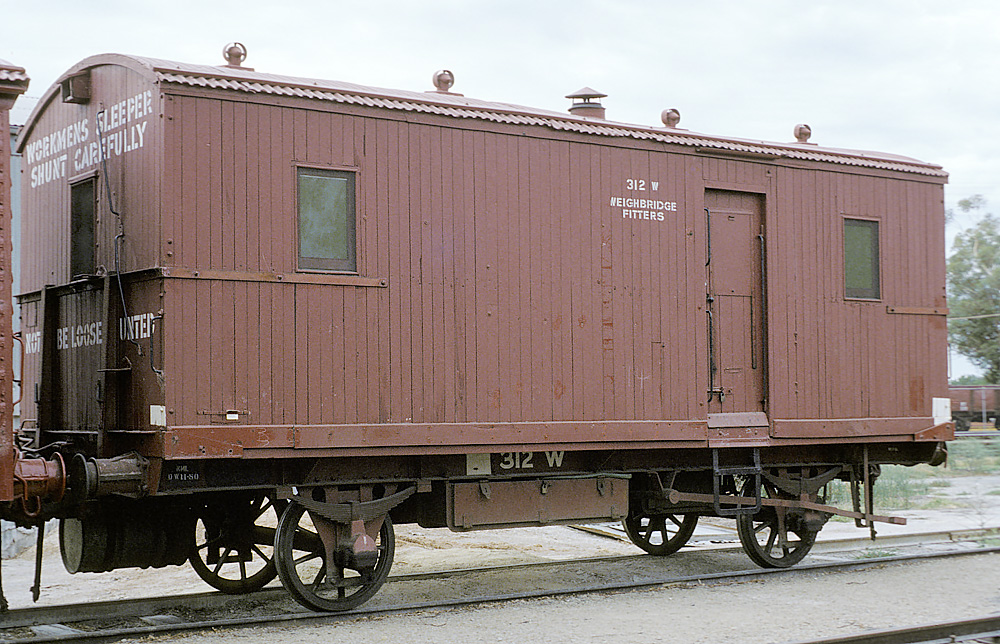 ---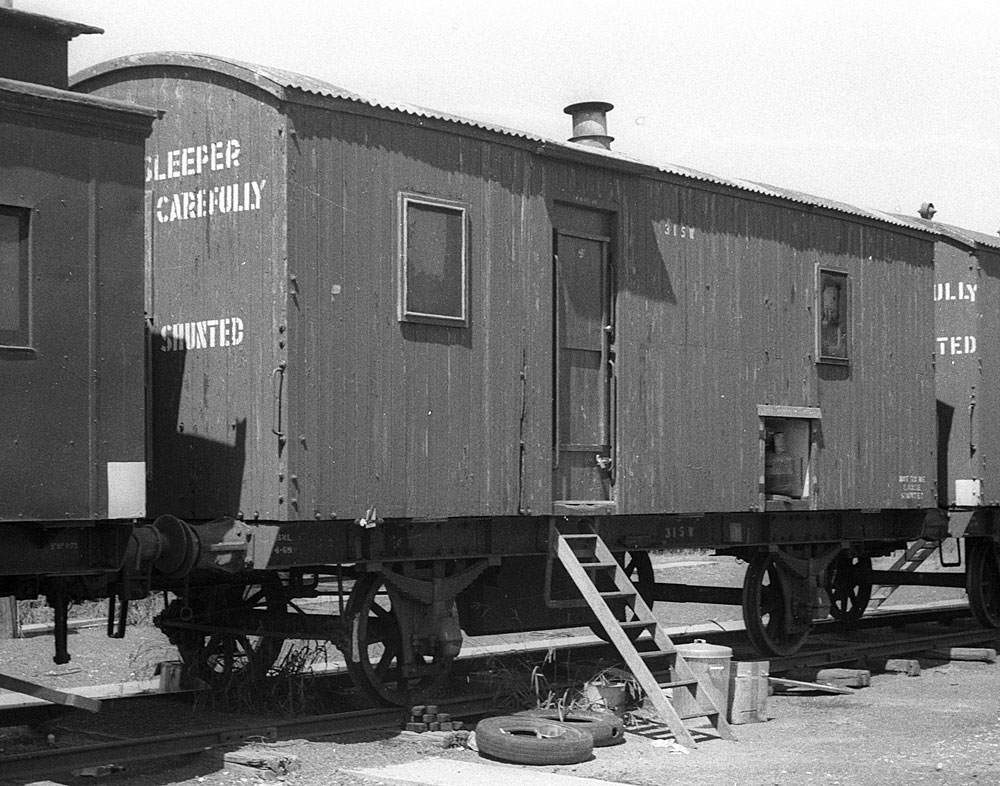 W 315 Built July 1928
Photographed 1977
---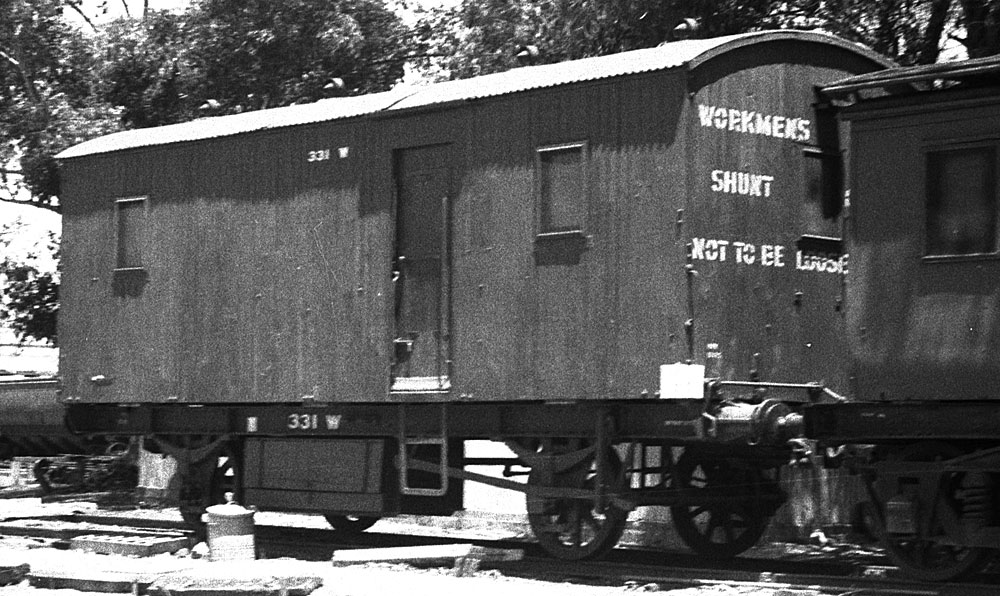 ---
W 335 at Woodend, 1978
---

W 341, circa 1979
Photo courtesy Peter J Vincent
---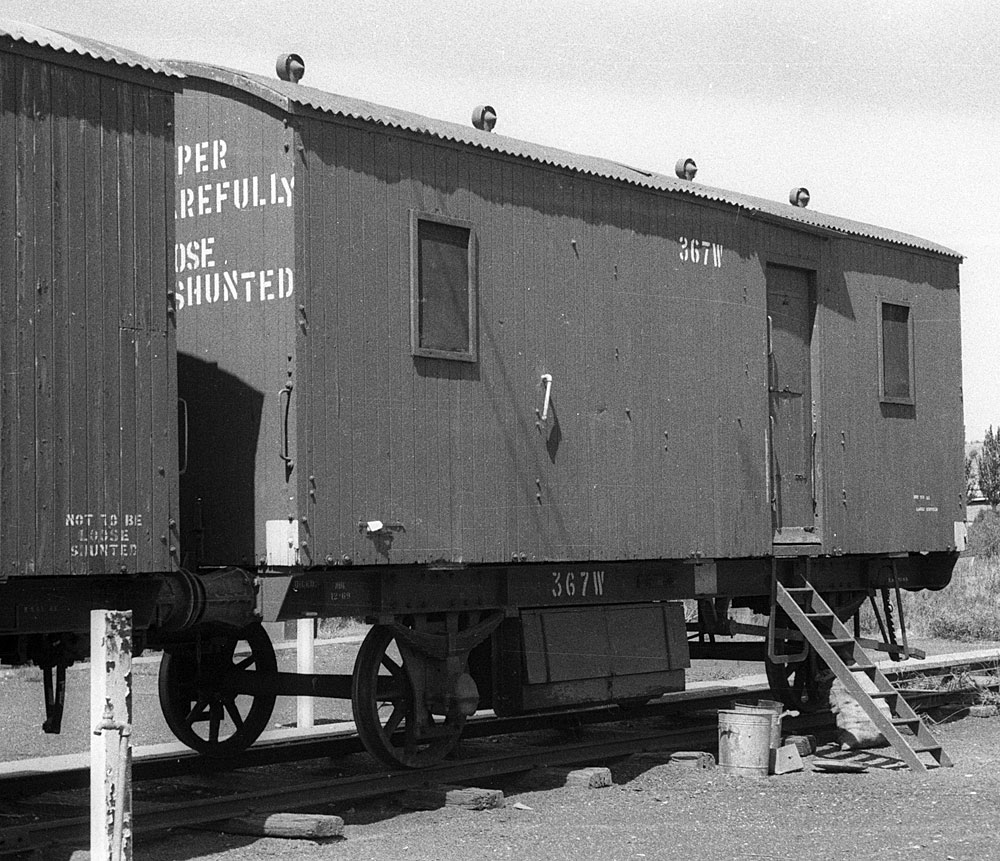 W 367 built April 1937
photographed 1977
---
---
W 403, built new Oct. 1943. Photographed in 1978. Note the wood jammed through the spoke of the wheel
The white square to the left of 403 indicated the vehicle had a through brake pipe but no operating air brake.
---
---
W 411, built new June 1945.
Photographed at Ararat 1978
---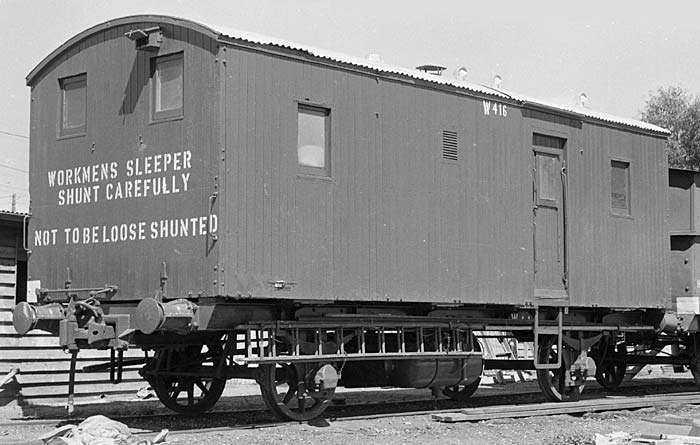 W 416 was built new in 1945
---
The following W's are shown as "built new" in the 1950's. In actuality they were bogie vehicles chopped into shorter sections and placed on reclaimed underframes. At this stage the best evidence suggests they were converted from B country cars and T suburban cars. In 1956 the introduction of Harris suburban cars saw the "scrapping" of suburban swing door cars and this is where the T cars would have come from.
The following info is quoted directly from a 1958 VR Newsletter
Workmen's sleepers with screw couplers are being converted for auto coupling. This is being achieved by transferring bodies to I wagon underframes, which are already fitted with automatic couplers. Condemed bodies of I wagons are being removed, and the underframes suitably altered for the workmen's sleepers.
To provide 80 smaller 2-man workmen's sleepers, the bodies of condemned A, B, M and T swing door cars are to be cut in half and the structures utilized for the conversion
Seymour, 1978
---
W 427 built "new" April 1959
Photo circa 1978
---
In 1978 W 429 had this caravan siding applied to its sides, no doubt due to the poor condition of the wood sides,
I don't know if any others were done and I'm not even sure if it entered service in its modified condition
around this time the VR was moving away from rail vehicles for worker accomodation.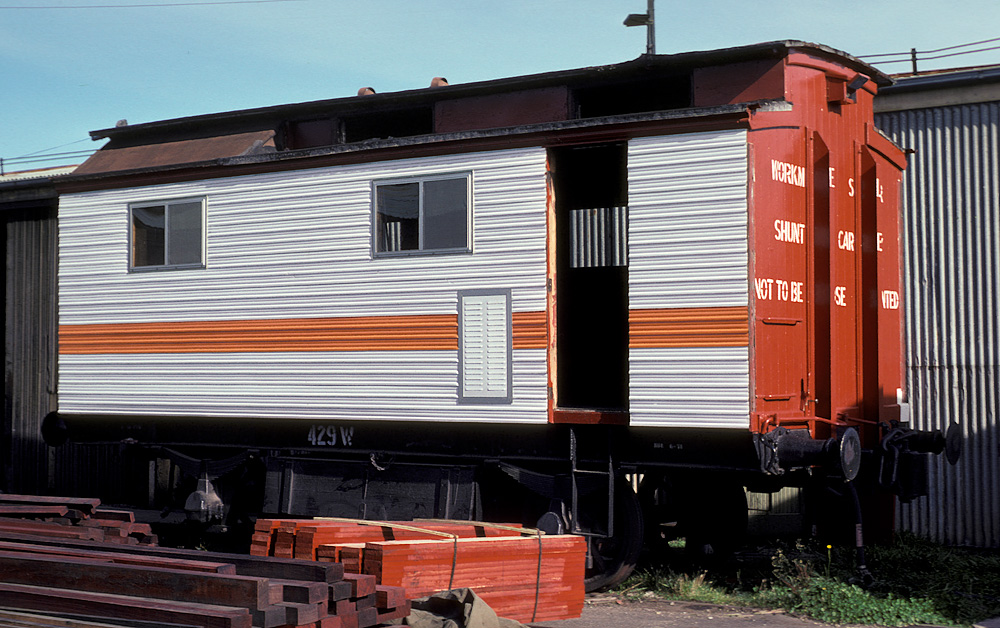 ABOVE: W 429 at Ballarat workshops, June 26 1978
Photo courtesy Geoff Winkler.
W 435 in 1978, built new Feb. 1959
---
W 442 was converted from a bogie pass. car in 1958.
Photo circa 1978
---
W 443 built Nov. 12/1958, above & below, photographed in 1977
---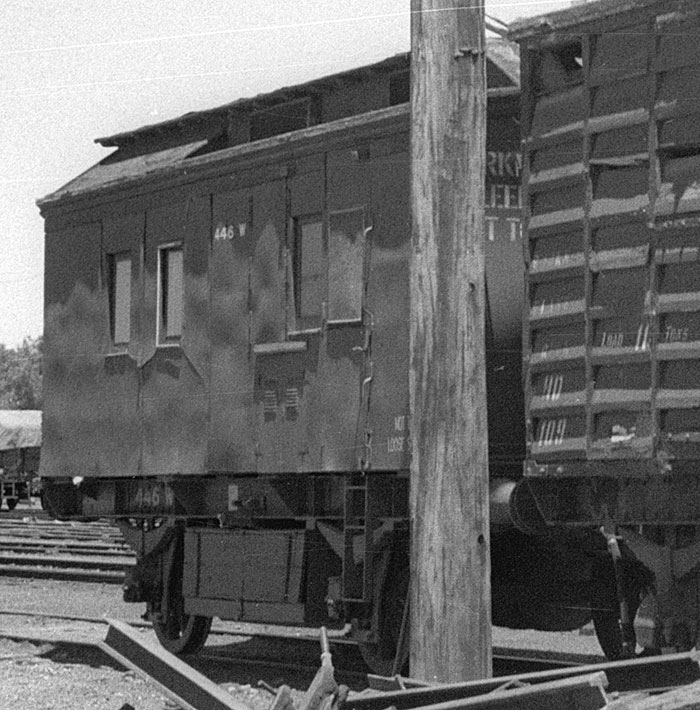 W 446 built April 1959
photographed 1977
---
W 451 built July 1959
photographed at Woodend, March 1978
---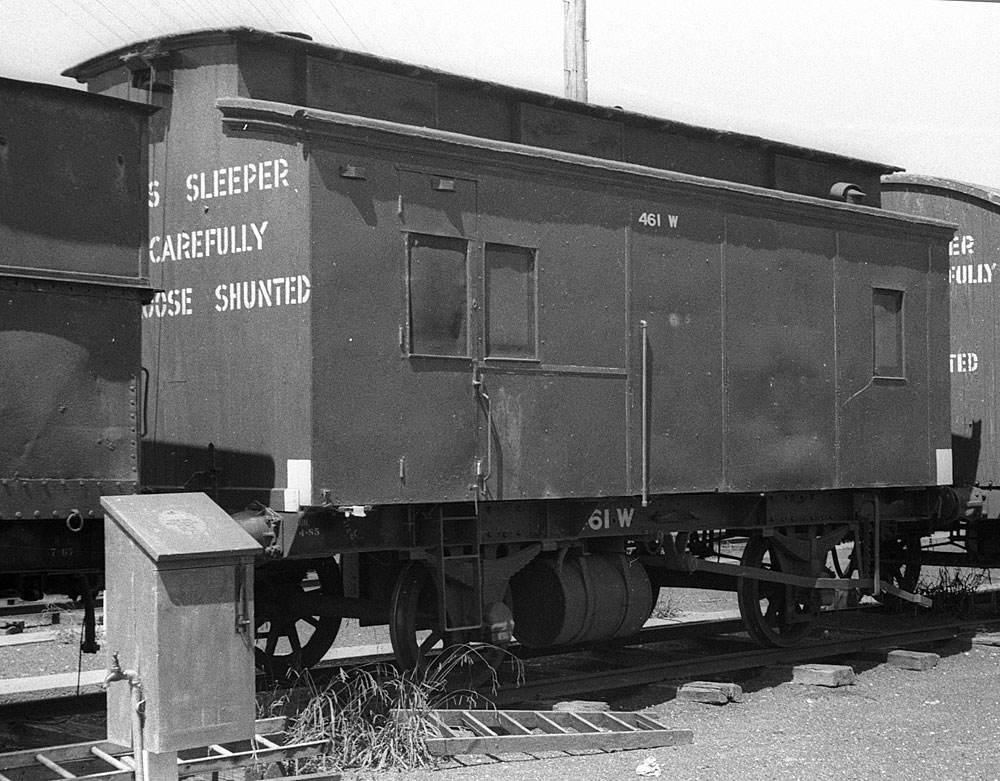 W 461 built Oct. 1959
photographed 1977
---

W 467 built Oct. 1960
photographed in 1978
---
page last updated Thu, 8 Mar 2012